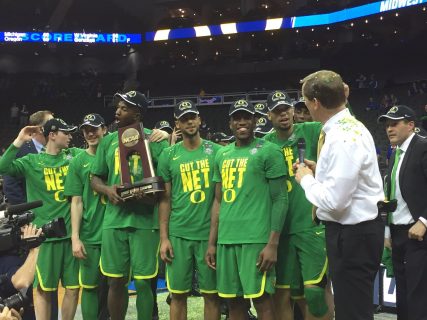 By Josh Tolentino | EBC SPORTS
KANSAS CITY — It wasn't meant to be for top-seeded Kansas, as it was upset by No. 3 Oregon 74-60, in the Midwest Regional Final Saturday in front of a KU-friendly Sprint Center crowd of 18,643.
Tyler Dorsey torched KU for a game-high 27 points off 9-of-13 shooting, leading Oregon to its first Final Four since 1939 — the year the first-ever NCAA Tournament was played when the Ducks won their only National Championship.
"Coach tells us we have to be tougher at the beginning of the game," said Dorsey who has scored 20+ points in seven-straight games. "We just went and competed and we didn't quit on the play. We got every rebound…everybody was cracking down and then we got second-chance points, and like I said, the 50/50 balls we got 'em tonight."
The teams exchanged the lead just twice and KU never led by more than one point. Dorsey knocked down a pair of three-pointers as part of an 8-0 Oregon run to end the first half with a 44-33 advantage.
"I think these guys have all stepped up," Oregon coach Dana Altman said. "We have had a lot of opportunities to try to do this and haven't been able to get it done but these guys got it done. It's an exceptional group. We're not done yet…we're not going to celebrate too much, we're going to get focused for next Saturday."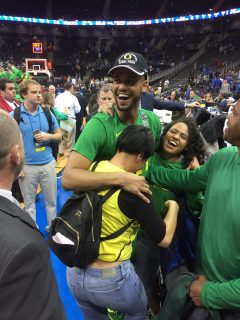 Oregon's defense and length frustrated KU throughout the game. KU's Josh Jackson struggled to find any rhythm after having to sit with two early fouls. He didn't score his first points until the 11:26 mark of the second half. Jackson finished with 12 rebounds and 10 points, shooting 3-of-8 from the field and 0-of-2 from behind the arc.
"I think anytime you take out one of the best ten players in the country, it obviously is going to affect you in some way," KU coach Bill Self said. " You take an All-American talent off the floor certainly that did change things from a momentum standpoint, especially when they were playing very well. We're obviously very disappointed that we didn't perform better today, but give Oregon credit. They were the aggressor and certainly controlled the game almost from the jump."
KU senior guard Frank Mason III, who entered the game with a Big 12-leading 20.9-point scoring average and in three-point percentage at 48.2., paced the Jayhawks with a team-high 21 points off 8-of-20 shooting.
"Frank had the best year of anybody I've coached, and he's as tough as anybody I've ever coached," Self said of Mason III, who ends his KU career as the program's sixth-leading career scorer and sixth in assists. "He loved this place as much anybody I've ever coached."
Ducks forward Jordan Bell was a force, finishing with 11 points, 13 rebounds, while accounting for all of Oregon's eight blocks.
Altman said, "I thought Jordan Bell was unbelievable on the defensive end tonight. He got a couple of blocks early and I thought it really put a thought in their mind. I'm happy for our team. It's been a long time coming and now we just need to go continue to play well."
Bell was named to the Midwest All-Regional Team along with Dorsey, Dillon Brooks, Mason III and Josh Jackson.
Oregon advances to the Final Four Saturday at the University of Phoenix Stadium and will face the winner of the South Region between No. 1 North Carolina and No. 2 Kentucky.