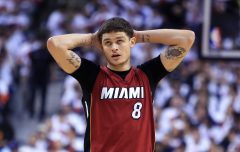 MIAMI, United States (AFP) –The Miami Heat opened the second half of the season on a winning note late Friday, scoring a season high 17 three pointers to beat the Atlanta Hawks 108-90.
Guard Tyler Johnson scored 23 points off the bench for the Heat, who improved to 26-32 on the season and have won 15 of their last 17 games.
Luke Babbitt led Miami's three-point assault with four while Johnson and Wayne Ellington made three each. A half dozen players made at least two as the team attempted 37 three pointers overall.
The Heat's previous best was 15 on February 6 in a win over Minnesota.
The Hawks dropped to 32-25 and have lost two straight and five of its last 10. The victory gave Miami a split of the season's four-games.
Johnson shot nine-for-11 from the field and he added five rebounds and five assists. Goran Dragic had 17 points and six rebounds. Dion Waters scored 14 and Rodney McGruder added 13.
Atlanta was led by forward Paul Millsap, who scored 21 points, but only two in the second half.
© Agence France-Presse