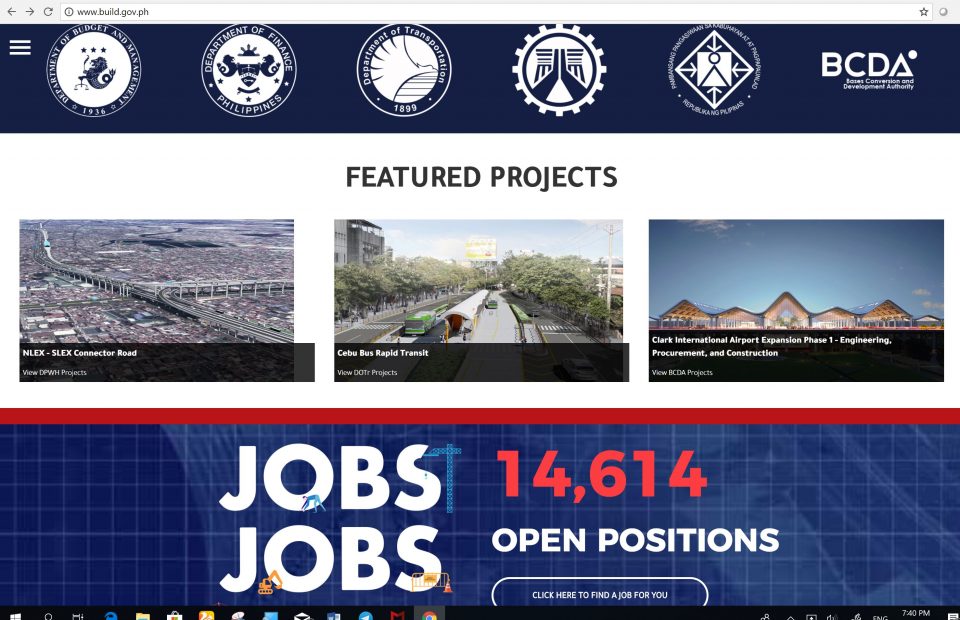 (Eagle News) – The national government has spent P281 billion on infrastructure in the first five months of 2018 which was 42 percent higher than the same period last year.
This was announced by the Department of Finance which has expressed confidence in the economy expanding by 7 percent or better over the medium term.
Finance Secretary Carlos Domimguez III said that with the P281 billion invested on infrastructure from January to May this year, the government is averaging close to P56 billion a month in spending on "Build, Build, Build" projects.
"Build, Build, Build will drastically alter the Philippine economic landscape. It will create over a million jobs per year. It will bring our logistics backbone up to par in a region that is growing very dynamically," Dominguez said in a recent press conference in the New Clark City in Pampanga.
With 30 percent of this spending going to wages, about P17 billion is infused into the economy per month in the form of additional income and purchasing power for workers, on top of creating some 100,000 new jobs so far, spurring economic activity in related sectors, and other multiplier effects, he explained.
Dominguez said that combined with other reforms such as the long-due modernization of the tax system and improvements in the ease of doing business, the Duterte administration envisions the infrastructure program to reduce poverty incidence by a third of the 2015 level of 21.6 percent to just 14 percent by 2022.
"This will be the absolute measure of success of our strategy of inclusive growth. This is the goal that has been set for us by President Duterte, and this is how we are implementing it," said Dominguez.
"We fully aspire to be the fastest growing economy in the fastest growing region in the world. This will not be an easy task to accomplish. But we are ready to meet the challenges, driven by the optimism of our people, the confidence of our development partners, and the leadership of President Duterte," he added.