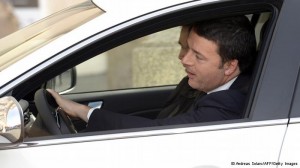 Matteo Renzi has been nominated Italy's youngest-ever prime minister. His ascension follows a daring power grab that has been welcomed by investors but has left many Italians skeptical.
After receiving the mandate from President Giorgio Napolitano Monday morning, the 39-year-old Renzi must move quickly to form a new government and then deliver on his promise to lead Italy "out of the quagmire." Over the weekend, Napolitano had consulted with the leaders of Italy's various political factions before nominating Renzi the youngest government leader in the European Union.
"In this difficult situation, I will bring all the energy and commitment I am capable of," Renzi told reporters after his 90-minute meeting with Napolitano on Monday.
Renzi, also currently the mayor of Florence, has no previous experience in national government or parliament. As head of the Democratic Party, Renzi had engineered the ouster last week of his predecessor Enrico Letta – a member of his own party – accusing him of failing to live up to reform pledges in his 10 months in government.
Renzi must hold together a fragile coalition. The New Center-Right, which broke off from People of Freedom, the party led by former Prime Minister Silvio Berlusconi, holds enough seats to prove critical for Renzi. Other parties have announced that they would remain in the opposition, and the new prime minister's own Democratic Party does not have a majority in parliament.
Angelino Alfano, the leader of the New Center-Right, has told his party's base that he will demand promises from Renzi before joining the new government. Alfano, the interior minister in the outgoing government, has pressed Renzi to identify his goals.
Should he successfully form the government, Renzi would return to Napolitano to have his nomination confirmed and then an official swearing-in. The government would be Italy's 65th in the seven decades since World War II, and Renzi is the third prime minister in a row selected by the president rather than the voters.
(Deutsche Welle)
http://www.dw.de/napolitano-nominates-renzi-prime-minister-in-italy/a-17437013