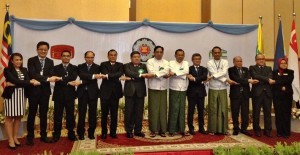 (Eagle News Service) — More foreign direct investments are continuing to rise in the ASEAN region, with inflows exceeding $122 billion in 2013.
This was according to the latest ASEAN Investment Report (2013-2014) which was recently launched during the 4th ASEAN Investment Forum (AIF).  The ASEAN Investment Report 2013-2014 was jointly launched by the ASEAN and the United Nations Conference on Trade and Development (UNCTAD).l
It highlights the continuing rise of foreign direct investment (FDI) flows into ASEAN, which performed well among the developing regions.  The Report shows that ASEAN had attracted FDI inflows exceeding $122 billion in 2013 – about on par with those to China – up from $114 billion in 2012.  Growing corporate income and cash reserves of ASEAN companies further supported strong intraregional investment.
 This latest ASEAN Investment Report, also entitled "FDI Development and Regional Value Chains", also provided analysis on the increasing regional value chains (RVCs) contributed by rising FDI.
RVCs or regional value chains in ASEAN now involve more companies, more ASEAN countries, and a wider range of products and industries in the region, the ASEAN noted.
"ASEAN's integration efforts are pursued through key regional measures that among others, strengthen investment cooperation among ASEAN Member States, enhance investment protection and liberalization regimes, and promote ASEAN as an integrated investment and production network. All these have contributed to make the ASEAN region an attractive destination for foreign direct investments (FDI)," the ASEAN said in introducing the latest investment report.
The Report also  illustrated how RVCs strengthen regional connectivity through production, investment, trade and business linkages, complementing the three pillars of ASEAN Connectivity of physical, people and institutional connections, according to a release by the ASEAN Secretariat.
"This Report will not only be a useful reference for ASEAN's business community on their existing operations and expansion plans, it also shows ASEAN's commitment to facilitate and promote investments in the region as we are moving forward to the realization of the ASEAN Community by 2015," the introduction of the report said.
The latest ASEAN Investment Report was prepared under a technical cooperation arrangement specifically between the ASEAN Secretariat and the UNCTAD Division on Investment and Enterprise (DIAE) with financial support from the Australian Government through the ASEAN-Australia Development Cooperation Program Phase II (AADCP II).