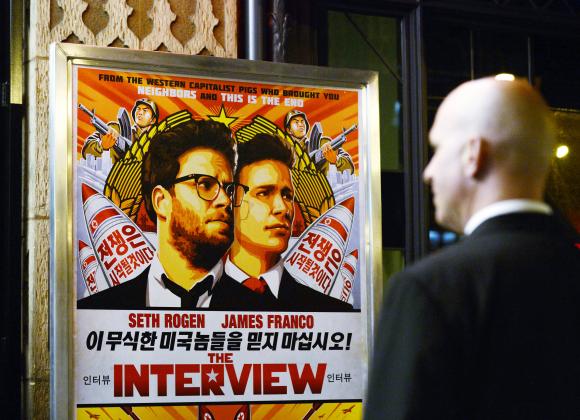 (Reuters) – Nearly half of Americans believe Sony Pictures made the wrong decision by canceling the theatrical release of the comedy "The Interview," the film that provoked a cyberattack on the studio, according to a Reuters/Ipsos poll released on Monday.
Forty-seven percent of respondents said they disagreed with Sony scrapping the film last Wednesday, after several movie theater chains chose not to screen the raunchy satire that depicts the assassination of North Korean leader Kim Jong Un.
Another 29 percent of those polled said they agreed with the decision to pull the film, which had been slated for a Christmas Day release, while 24 percent said they did not have an opinion.
The FBI has determined that the North Korean government is responsible for the devastating cyberattack that disabled the computer network on Sony Pictures Entertainment and exposed a trove of sensitive data and personal email. [
North Korea has denied it was to blame and has even called for a joint investigation, a suggestion Washington's U.N. envoy Samantha Powers has called "absurd."
The online poll, conducted from Dec. 18-22, suggests that Americans mostly agree with President Barack Obama when he said last Friday Sony "made a mistake" by canceling the release and bowing to the intimidation of the hackers. He expressed concerns over self-censorship in Hollywood.
Sony Pictures CEO Michael Lynton responded by saying the Hollywood studio had no choice after the movie theaters pulled out of the release due to unspecified threats the hackers made against the theaters and audiences. He wants to release the film on an alternative platform, but no partners have come forward.
A majority of respondents, 63 percent, said they agree that North Korea is threat to the United States, while only 20 percent disagree.
In the wake of the Sony cyberattack, the most destructive on a private company on U.S. soil, the poll showed that Americans are not overwhelmingly becoming more cautious about their email or passwords.
Thirty-eight percent said they are now more cautious about what they share on private email, compared to 47 percent who are not. When it comes to changing passwords, 31 percent have done so since the Sony cyberattack became public four weeks ago, while 55 percent have not.
The Reuters/Ipsos poll surveyed 1,246 Americans online and has a credibility interval of plus or minus 3.2 percentage points.