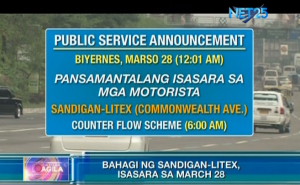 MANILA, Philippines — The Metropolitan Manila Development Authority has advised commuters and motorists to take alternate routes as the Commonwealth Avenue in Quezon City will be closed Friday for a medical mission of the Iglesia ni Cristo.
In its Twitter account, MMDA said: "As per Brgy. Commonwealth, the Iglesia Ni Cristo 'Lingap Pamamahayag' will be held on Friday, March 28, 2014. Road closure (eastbound Commonwealth) starts from 12:01 am to 10 pm."
The closure will be along the stretch from the Sandiganbayan, where work has been suspended Friday by the Supreme Court, to Litex.
The MMDA advised motorists to take the following alternative routes:
Northbound (from Philcoa to Fairview or San Mateo)
From Philcoa to Fairview: The entry point of counterflow is at the island breaker in front of Meralco Commonwealth and take the inner lane (2 or 3 lanes) of the west side of Commonwealth Avenue going to Fairview. The end and exit point of counterflow is at the island breaker in front of Don Fabian Street. The motorists may likewise turn right at the IBP Road going to Commonwealth Avenue.
From Philcoa to San Mateo: vehicle flow – as is
From Philcoa to Bagong Silangan: vehicle flow – as is
From Philcoa to Payatas: Turn right at the IBP Road and then right at the Payatas Road
Southbound (from Fairview to Philcoa or San Mateo)
From Fairview to Philcoa: Motorists shall occupy the outer lanes (2 or 3 lanes) from the exit point of counterflow at the U-turn slot in front of Don Fabian Street.
From Fairview to San Mateo: Take the U-turn slot in front of St. Peter Church then left at the IBP Road
From Bagong Silangan to Fairview or Philcoa
From Bagong Silangan to Philcoa: Turn left at the IBP Road going to underpass en route to Commonwealth Avenue
From Bagong Silangan to Fairview: Turn right at the IBP Road going to Litex-Commonwealth Avenue
From Payatas to Fairview or Philcoa or San Mateo
From Payatas to Fairview: Turn right at the Commonwealth Avenue
From Payatas to Philcoa: Turn left at the IBP Road to underpass en route to Commonwealth Avenue
From Payatas to San Mateo: Turn left at the IBP Road then turn left at the San Mateo Road
Quezon City will deploy 300 traffic enforcers for the duration of the traffic rerouting.  (source:  Philippine News Agency)