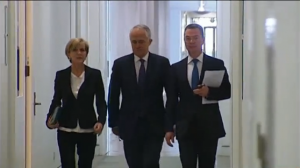 (Reuters) — Australia woke on Tuesday (September 15) to the news that the ruling Liberal Party voted to oust Tony Abbott as prime minister in favour of Malcolm Turnbull, a multi-millionaire former tech entrepreneur who is hugely popular with the electorate.
Abbott was deposed late on Monday (September 14) following months of opinion polls that showed his popularity with the public near rock bottom as Australia's $1.5 trillion economy struggles to cope with the end of a once-in-a-century mining boom.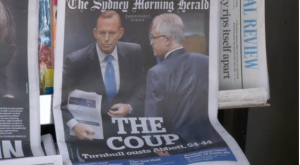 Turnbull, toppled as leader of the conservative Liberal Party by Abbott in 2009, has consistently been seen as a preferred prime minister. However, his support for a carbon trading scheme, gay marriage and an Australian republic have made him unpopular with his party's right wing.
"Oh, sense of hope, sense of renewal. I'm not even a Liberal voter but I just think perhaps we're heading in the right direction, it's a beautiful day and it's a new start, it's great," said Peter Lipman, a State Government employee.
But not all agree with the ousting, which came about through a secret vote.
"Disappointed to say the least. As a public we voted Tony Abbott as a prime minister. If Malcolm Turnbull had a chance, he's done his dash. He had his chance long ago and he missed his chance, so why is it that he gets in now, does he really have the countries interest at heart or is a personal interest. Equally so, I'm disappointed with Julie Bishop, with divided loyalties," said Emma Hunting, a marketing manager.
"I've voted in three elections now and had five Prime Ministers, so yeah it's a bit scary," said David Cliff, a case manager for workers compensation.
Turnbull's ascension, however, is seen by many political analysts as restoring stability because he presents a more formidable foe for the opposition Labor Party at next year's federal elections.
"He has struck a different kind of tone with the public but he's been here before, He was the leader that rolled Brendan Nelson and he quickly came undone. He does run the risk of being excessively over intellectual in the way he goes about things. He doesn't necessarily have a common touch, I mean he's a former merchant banker, you know, senior board positions, he's not really the sort of guy who's gonna bite into an onion on a farm, that sort of thing. Which was the great appeal I think of Tony Abbot, who still had solid support in his party towards the end, so it's 22 percent of Liberal national voters still strongly supported him at the end because of the way in which he kind of had that common touch. So I think he has those difficulties as the new Prime Minister." said Peter John Chen, Senior Lecturer for Government and International Relations at Sydney University.
Turnbull is widely expected to overhaul the cabinet, with current Treasurer Joe Hockey, who has been battling a backlash against a deeply unpopular budget, likely to be replaced by Social Services Minister Scott Morrison.
Defense Minister Kevin Andrews, who is overseeing a A$50 billion ($35.70 billion) submarine tender, is also expected to be replaced when Turnbull unveils his ministry later this week.
Foreign Minister Julie Bishop, who won the party room vote to retain her additional position as deputy prime minister, said she had spoken with international leaders overnight about the leadership change.
The opposition Labor Party was quick to label Turnbull a "multi-millionaire who lives in a pink mansion on Sydney Harbour" who was out of touch with everyday Australians.
The change of leaders is the latest sign of political instability in Australia, which has in recent years been convulsed by backroom machinations and party coups that have shaken public and business confidence in government.
Labor's Kevin Rudd, elected prime minister with a strong mandate in 2007, was deposed by his deputy, Julia Gillard, in 2010 amid the same sort of poll numbers that Abbott faced. Gillard was in turn deposed by Rudd ahead of elections won by Abbott in 2013.