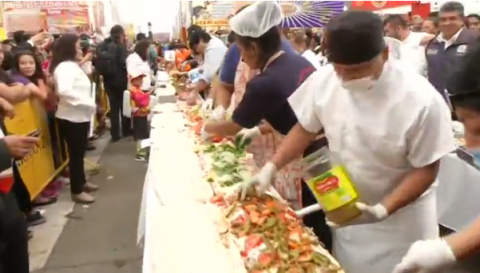 MEXICO CITY, Mexico (Reuters) — Crowds gathered in Mexico City on Wednesday (July 26) to watch chefs craft a record breaking super "torta" sandwich.
According to organizers, the 67-meter (220 foot) long "torta" sandwich set a new local record for the longest sandwich ever prepared in Latin America, for a fourteenth year running.
The mega "torta" record attempt took place in Venustiano Carranza district of Mexico City.
Local authorities and dozens of local establishments dedicated to preparing this very popular Mexican snack helped in this effort.
Different from the traditional sandwich, the torta is bigger in size and can be made up of a variety of products.
Thousands of pieces of bread, lettuce, onion and tomato were mixed with more than 60 ingredients, including hundreds of liters of mayonnaise, mustard and spicy sauces.
Each section of the super torta had a different flavor, each representing numerous combinations that local cooks have created over the years.
The long torta challenge kicks off a 3-day fair aimed at elevating the status of the Mexican sandwich.
In recent years the torta has taken a back seat to an increased consumption of mass-marketed fast foods.