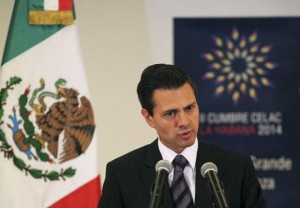 (Reuters) – Mexican President Enrique Pena Nieto said on Friday he will send secondary laws that flesh out landmark telecoms and energy reforms for congressional approval as he seeks to boost competition and economic growth.
Pena Nieto pushed a series of reforms through Congress last year, which also spanned taxes and education, but the implementation of energy and telecoms reforms requires a separate batch of secondary laws.
He held off fast-tracking the reforms. The move would have risked angering conservative and left-leaning rivals who helped him push reforms through a divided Congress.
"During the first days of February, I will send to Congress … secondary laws regarding telecommunications, economic competition and energy," Pena Nieto said, signing into law an electoral reform that allows for the re-election of lawmakers.
The secondary laws will help determine the impact of the telecoms reform on the likes of tycoon Carlos Slim, who has the lion's share of the fixed-line and cellular market in Mexico.
Investors are also waiting to see secondary laws for energy, which will give pointers as to how lucrative a range of new contracts to be offered to oil majors will be amid the biggest opening of the state-run sector in decades.
State oil monopoly Pemex has struggled to exploit Mexico's oil reserves due to a lack of investment, high taxes and persistent allegations of corruption.
Mexico's crude output peaked at 3.4 million barrels per day in 2004 and has since fallen by more than a quarter. The government says the overhaul is vital to boosting growth that has long lagged behind regional peers.
Pena Nieto's administration is hoping that Congress will approve the secondary laws by the end of the next legislative period, which starts on Saturday and runs through the end of April.