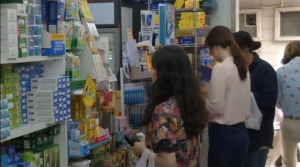 JUNE 8 (Reuters) — Middle East Respiratory Syndrome (MERS) fear caused face mask sales surge in South Korea, as a sixth person died and tally of MERS rose to 87.
South Korean Health Ministry announced 23 new infections, bringing the total to 87. South Korea now has the second highest number of infections in the world after Saudi Arabia, according to data from the European Centre for Disease Prevention and Control.
Fears over MERS led people to buy face masks to protect themselves and triggered shortages of masks in markets.
"The news of MERS outbreak is quite sudden. Local mask company or supplier, even importers like 3M don't have enough products. We can only sell about 600 masks a day even though 1,000 masks are in demand. It means demand is much greater than supply," said, Lee Jong-min, South Korean Pharmacist at Samwon Pharmacy.
According to Lotte Mart, one of the biggest hypermarket in South Korea, its sales of masks from June 1 to June 7 increased by about 3,000 percent compared to last year.
Symptoms of MERS can include cough, fever and shortness of breath. It can lead to respiratory failure, the World Health Organization (WHO) said. There is no cure or vaccine.
South Korean doctor and president of Korean Medical Association, Choo Moo-jin, said wearing mask can prevent transmission of MERS.
"Mask can block large-particle droplets, so it prevents MERS transmission. People should wear mask in crowded area or in hospital. It helps them to prevent from MERS," Choo added.
A team of experts from the WHO was due to begin work on Tuesday to evaluate the response to the outbreak, including why it had spread so fast and advise on further measures.
The South Korean culture of families looking after their loved ones at hospitals may have been part of the reason for it to spread within healthcare facilities, WHO Director-General Margaret Chan told Yonhap news agency.
All known South Korean infections have taken place within healthcare facilities, where it is common for family and friends to make lengthy visits, sometimes around the clock.
South Korea's outbreak of the often-deadly MERS virus, first reported on May 20, has prompted fear and the closure of more than 1,800 schools, with thousands of tourists cancelling plans to visit the country.
There has been no sustained human-to-human transmission, but the worst case scenario is the virus changes and spreads rapidly, as Severe Acute Respiratory Syndrome (SARS) did in 2002-2003 killing about 800 people around the world.
MERS was first identified in humans in 2012 and is caused by a coronavirus from the same family as the one that triggered SARS. However, MERS has a much higher death rate at 38 percent, according to WHO figures.