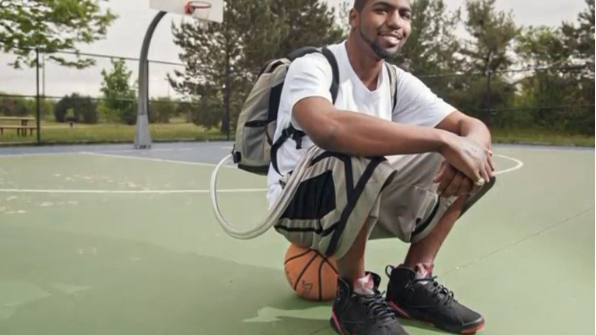 ANN ARBOR, Michigan (Reuters) — Stan Larkin survived for 555 days on an artificial heart which he carried around in a backpack before the 25-year-old underwent a successful heart transplant last month, making Larkin one of the first patients in Michigan to be discharged from hospital with a completely artificial heart.
Before his transplant, Dr. Jonathan Haft, who later performed Larkin's surgery at the University of Michigan Frankel Cardiovascular Center, explained why Larkin had originally been discharged with an artificial heart.
"So he's still listed for a heart transplant. We hope to transplant him as soon as that organ becomes available but in the meantime he can be at home, he can be functional so that he is in the best possible fitness when his opportunity comes," he explained.
Larkin's brother, Dominique, also suffered from heart disease and relied on a similar device to survive. However, Dominique found an organ donor sooner and also underwent a successful transplant.
Returning to the University of Michigan in May after his transplant, Larkin described his feelings.
"A very emotional rollercoaster. Two weeks ago I got the surgery so it was a good success. I liked it. I enjoyed the back. It raised me a long way. It brought my life back to make me as healthy as I am now," he said.
The surgery performed by Dr. Haft was unique and a triumph in efforts to replace the failing heart as heart disease grows and donor hearts remain scarce.
Stan and his older brother Dominique were diagnosed as teenagers with familial cardiomyopathy, a type of heart failure that can strike seemingly healthy people without warning, according to the University of Michigan Health Systems press release. It's linked to a leading cause of sudden death among athletes called Arrhythmogenic right ventricular cardiomyopathy (ARVC).
The temporary total artificial heart is used when both sides of the heart fail, and more common heart-supporting devices are not adequate to keep patients alive.
Rather than stay in the hospital, Larkin used a wearable, 13.5 pound Freedom portable driver to keep the artificial heart going, according to a press release by the University of Michigan Health Systems.