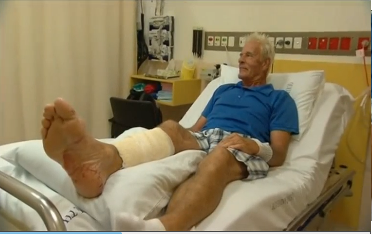 A 75-year old man was bitten on the leg by a crocodile while playing golf on Tuesday (April 14) at the Palmer Sea Reef course in Port Douglas in far north Queensland, Australian media said.
The man was identified as John Lahiff.
The attack happened when he went to retrieve a ball from water on the 11th hole, Australian media added.
"I didn't see the croc sunbaking just on the edge of the water, and I walked past it. It got me on the way back and and as soon as it grabbed me it took off into the water," said Lahiff.
Lahiff is recovering in hospital in Cairns about 66 kilometres (41 miles) south of Port Douglas and hopes to be back playing golf as soon as he can, Australian media reported.
The golf course is owned by politician and mining tycoon, Clive Palmer. (from Reuters)