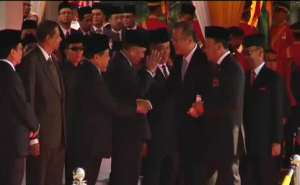 (Reuters) — Philippine President Benigno Aquino was greeted by Malaysian King Abdul Halim Mu'adzam Shah during a state welcoming ceremony in Kuala Lumpur on Friday (February 28).
Aquino is in Malaysia for a three-day state visit, where he will hold bilateral talks with Malaysian Prime Minister Najib Razak and meet members of the Filipino community in the country.
During his first visit to the Southeast Asian neighbour, Aquino is expected to discuss political, economic and defense cooperation with Najib, along with regional issues.
Both sides will sign a bilateral agreement on education and cultural cooperation.
They are also expected to discuss the signing of a Comprehensive Agreement on Bangsamoro (CAB), the unrecognised breakaway state in the Philippines, that was brokered by Malaysia. In January, the Philippine government agreed the final chapter of peace talks with the country's largest Muslim separatist group. Representatives from the Philippine government and the 11,000-strong Moro Islamic Liberation Front (MILF) signed the final and most challenging Annex on Normalization — the fourth part of a peace roadmap that was set out in October 2012.
Signing the CAB would allow the rebel group to set up an autonomous government to run parts of the poor, but resource-rich southern island of Mindanao — in exchange for decommissioning their weapons.
Malaysia has hosted peace negotiations between the Philippine government and the MILF since 2001 to end a rebellion that has killed 120,000 people and displaced 2 million.
The two countries are also expected to discuss the disputed waters in the South China Sea.China claims about 90 percent of the 3.5-million-sq-km (1.35-million-sq-mile) waters of the South China Sea. It provides 10 percent of the global fish catch, carries $5 trillion a year in ship-borne trade and has a seabed believed to be rich in energy reserves. Taiwan, Malaysia, the Philippines,Brunei and Vietnam also claim parts of the sea.