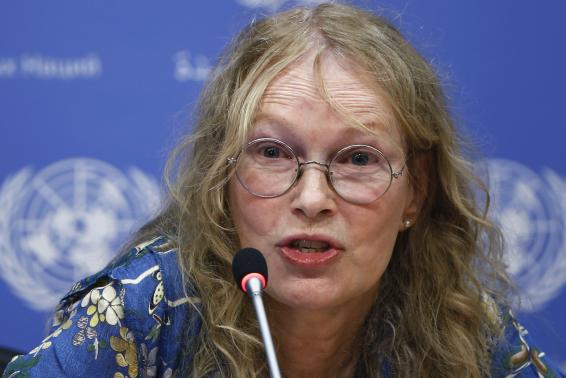 UNITED NATIONS Thu Jul 24, 2014 5:15pm EDT
(Reuters) – As a recent ceasefire deal boosts prospects for peace in Central African Republic, a key medical aid group warned on Thursday that malaria was the leading killer in the impoverished landlocked country.
Malaria, a life-threatening disease transmitted to people via mosquitoes, kills more than half million people a year, mainly infants in the poorest parts of sub-Saharan Africa.
Medecins Sans Frontieres (Doctors Without Borders) said it had seen a jump in cases in Central African Republic, where violence between Christian militia and Muslim rebels has killed thousands of people and forced a million from their homes.
An MSF report found that malaria cases in Bossangoa, about 190 miles (300 km) north of the capital Bangui, had more than tripled to 6,507 in May with almost two-thirds of those children under the age of five.
"What was already an extremely fragile state with an essentially non-existent health system, Central African Republic has devolved into a nightmare of even greater proportions," said Sylvain Groulx, head of MSF in Central African Republic who began working in the country in 2003.
"Throughout CAR, a major health crisis prevails. With the onset of the rainy season, cases of malaria, the leading cause of death in the country, continue to rise," Groulx told reporters at the United Nations in New York.
Central African Republic has been gripped by violence since Seleka, a coalition of mainly Muslim rebels, seized power in March 2013. Seleka's rule was marked by abuses that prompted the creation of the Christian anti-balaka militia.
Cycles of tit-for-tat violence have continued in the country of 4.6 million people despite Seleka's leaders stepping down from power in January.
Seleka rebels signed a ceasefire with the "anti-balaka" Christian militia on Wednesday, after having dropped their demand for the country to be split in two along religious lines.
U.S. actress Mia Farrow, a goodwill ambassador with the U.N. children's agency UNICEF, described the people of the Central African Republic as "the most abandoned people on earth" during a news conference earlier this week at the United Nations.
"I wish for the cessation of violence in the Central African Republic so that people can reclaim the tatters of their lives, and rebuild," said Farrow, who recently visited the former French colony. "It will take a generation."
(Reporting By Mirjam Donath; Editing by Marguerita Choy)