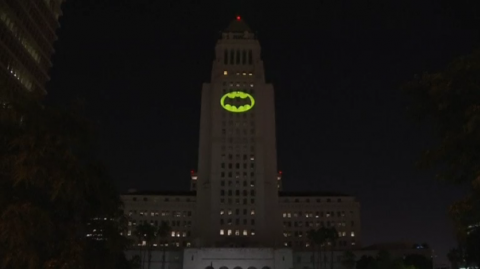 LOS ANGELES, United States (AFP) –The late actor Adam West was honored by the city of Los Angeles on Thursday with a ceremonial lighting of the iconic Bat-Signal onto the City Hall building.
Hundreds of fans thronged downtown Los Angeles, some dressed in comic character costume, to witness the event and pay respects to the 88-year-old actor who earned a place in American pop culture history with his campy portrayal of the title character in the classic 1960s TV series "Batman."
According to his family, West, who was so closely identified with Batman for the rest of his life that it was both a blessing and a curse for him, died last Friday (June 10) evening after a short struggle with leukemia.
In movies, TV shows and comic books, the Bat-Signal is a distress signal device made by a spotlight with the shadow of Batman's emblem in the middle as a means to call for the caped crusader when he was needed to help save the day.
The live-action "Batman" show, starring West along with Burt Ward as his sidekick Robin and a collection of colorful villains, was inspired by a long-running comic book series. It ran only three seasons from 1966 to 1968 on the ABC network, but became a television phenomenon and cult classic. It also spawned a "Batman" feature film in 1966.
West found it difficult to land other acting jobs after the series ended because he was forever linked to the Batman role…. But eventually became the voice of Mayor Adam West on "Family Guy" and played himself for years on "The Fairly Oddparents."