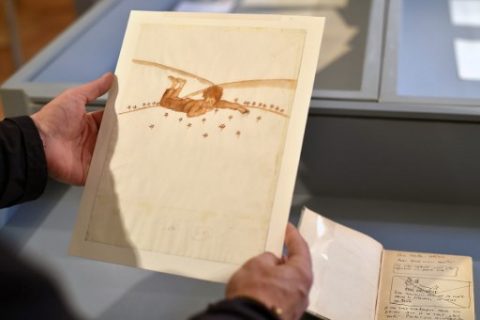 PARIS, France (AFP) — Two watercolors of "The Little Prince," French polymath Antoine de Saint-Exupery's world-famous golden-haired creation, fetched more than half a million euros at auction in Paris on Wednesday.
The first work, an A4-sized image of the children's character watching a sunset, smashed its estimate to sell for 294,000 euros ($331,000), according to the Artcurial auction house.
The second piece depicting the prince laying on his stomach in a rose garden sold for 226,000 euros.
"The prices reached by these iconic images are commensurate with this universal work and its international reputation," said Guillaume Romaneix, a books and manuscript specialist with Artcurial.
"The Little Prince" ("Le Petit Prince"), a novella charting the fantastical interstellar voyage undertaken by the eponymous hero, has sold 145 million copies worldwide and been translated into 270 languages.
The Paris auction included several other Saint-Exupery lots, including a set f of 11 preparatory drawing for the iconic book which went for 104,000 euros.
The author escaped to the United States after Germany's invasion of France and it was during his exile there in 1942 that he wrote his famous book. It was first published in 1943.
Saint-Exupery mysteriously disappeared somewhere near Marseille on July 31, 1944 shortly after taking off on a wartime mission.
© Agence France-Presse