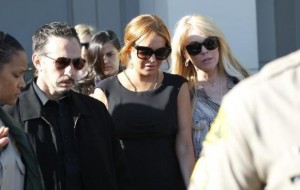 (Reuters) – Dina Lohan, the mother of actress Lindsay Lohan, was sentenced to 100 hours of community service on Tuesday and will lose her driver's license for a year after police caught her speeding on New York's Long Island while drunk.
Lohan, 51, was sentenced in Nassau County District Court after pleading guilty to the charges in April.
She had initially pleaded not guilty after state police pulled her over last September and said she was driving more than 20 miles per hour over the speed limit. She had about twice the legal limit of alcohol in her bloodstream, police said.
Lohan lives in the town of Merrick on Long Island's south shore, about 20 miles (32 km) east of Manhattan.
Judge Andrew Engel also ordered Lohan to pay more than $3,000 in fines and fees and to take part in a drinking driver program.
"I just want to put this behind me," she told reporters outside the courthouse.
Mark Heller, her lawyer, said the relatively lenient sentence reflected that Lohan's drunken speeding was a "one-time, isolated event that took place on the occasion of her birthday celebration."
Lohan's daughter Lindsay has been caught driving while drunk on several occasions and has been in rehab, sometimes at the order of a court, at least six times in the last few years, hampering a once-successful acting career she began as a child.
(Reporting by Jonathan Allen; Editing by Doina Chiacu and Jim Loney)