MONROVIA Sun Jul 27, 2014 8:27pm EDT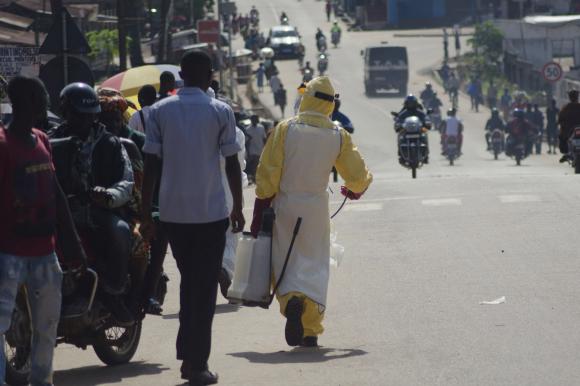 (Reuters) – The Liberian government on Sunday closed most of the West African nation's border crossings and introduced stringent health measures to curb the spread of the deadly Ebola virus that has killed at least 660 people across the region.
The new measures announced by the government on Sunday came as Guinea, Liberia and Sierra Leone struggle to contain the worst outbreak yet of the virus.
Speaking at a task force meeting, Liberia President Ellen Johnson Sirleaf said the government is doing everything to fight the virus including inspecting and testing all outgoing and incoming passengers by Liberia's airport authority.
"All borders of Liberia will be closed with the exception of major entry points. At these entry points, preventive and testing centers will be established, and stringent preventive measures to be announced will be scrupulously adhered to," she said.
Ebola can kill up to 90 percent of those who catch it, although the fatality rate of the current outbreak is around 60 percent. Highly contagious, especially in the late stages, its symptoms include vomiting and diarrhea as well as internal and external bleeding.
Under the new measures, public gatherings such as marches, demonstrations and promotional advertisements also will be restricted.
The outbreak has placed a great strain on the health systems of some of Africa's poorest countries.
"No doubt, the Ebola virus is a national health problem. And as we have also begun to see, it attacks our way of life, with serious economic and social consequences," Sirleaf said in a statement.
Still, despite efforts to fight the disease, the virus continues to spread. A 33-year-old American doctor working for relief organization Samaritan's Purse in Liberia tested positive for the disease on Saturday.
The charity said on Sunday a second American, who was helping a team treating Ebola patients at a case management center in Monrovia had also tested positive.
Samuel Brisbane, a senior Liberian doctor, who was also treating infected patients has died after contracting the virus, authorities said on Sunday. In Nigeria's commercial capital Lagos, a Liberian man who tested positive died in on Friday.
(Reporting by Clair MacDougall; Writing by Bate Felix; Editing by Diane Craft)