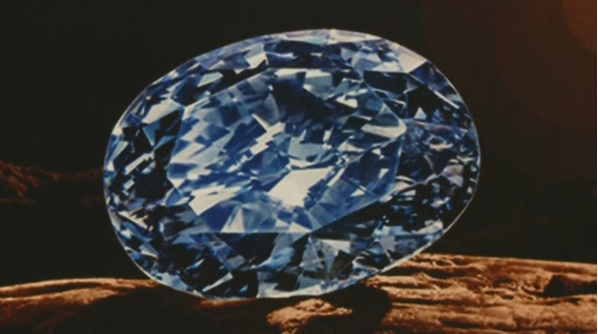 HONG KONG, China (Reuters) – The largest oval fancy vivid blue diamond ever to appear at an auction shattered Asia's jewelry auction record in Hong Kong on Tuesday (April 5) evening.
The internally flawless blue diamond, weighing at 10.10 carats, was sold to an anonymous phone bidder at US$31.8 million at Sotheby's Spring Sales after a couple minutes of bidding.
Before a 12 percent buyer's premium was added, the diamond's hammer price of US$28.38 fell out of range of the original estimate hammer price of US$30-35 million.
But Sotheby's worldwide chairman of the International Jewelry Division, David Bennett, said he was happy with the result.
"Very few gemstones have ever been sold for more than that, and it's setting the record price here in Asia for a gemstone in auction. So yes, I am very happy. Each stone is an individual, and this stone has its own particular character. It's a very beautiful stone," Bennett said.
Despite China's economic downturn, Bennett said he has not observed any immediate impact on the Asian jewelry auction market.
"The interest in jewelry in the Asian market is still very strong indeed, it's been very competitive bidding here tonight. So I think it's very good news for Asia," Bennett said.
The "De Beers Millennium Jewel 4" was mined in South Africa. It was featured as one of the twelve rare diamonds in the Deer Beers Millennium Jewels collection in 2000.
The world auction record for any diamond or gemstone was set in 2015, when a 12.03-carat cushion-shaped internally flawless vivid blue diamond was sold in Geneva for US$48.5 million.
Earlier on Tuesday (April 5), a painting by Chinese artist Zhang Daqian was sold for nearly $35 million in Hong Kong. Bidding lasted for a tense 50 minutes and it was the most expensive Chinese painting sold at Sotheby's in Hong Kong.