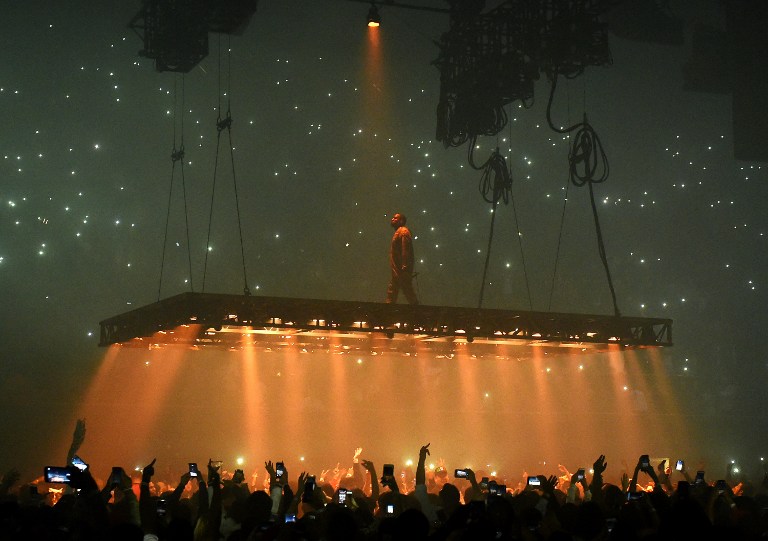 NEW YORK, United States (AFP) — Rap superstar Kanye West stunned a crowd by revealing his support for US President-elect Donald Trump while suggesting he still plans to challenge him in 2020.
After a campaign in which fellow artists and African Americans overwhelmingly backed rival Hillary Clinton, the rapper told an audience Thursday night that he did not vote — but would have chosen Trump.
"Because I'm a celebrity, everyone told me not to say that I loved the debates, I loved his approach," West said in a lengthy on-stage speech in San Jose, California, prompting loud boos and aghast reactions on social media.
West said that Trump, who ran on cracking down on immigration and won through white working-class support, could help bring about change by exposing racism.
"If people are racist and they feel more inspired to say how they feel, then they're exposing themselves," he said.
"To black people — stop focusing on racism. This world is racist, okay? Let's stop being distracted to focus on that as much," he said, according to a video of the event.
West — the husband of Kim Kardashian, who like Trump has built a following through reality television — last year said he planned to run for president in 2020.
He appeared to be serious, telling the San Jose concert on Thursday: "I don't say 2020 because I disrespect our president at all. … I've just got some ideas about the way we should connect."
West proposed that President Barack Obama and Clinton take roles in advising Trump, running the United States through "collective ideas."
West in the past has backed Obama and famously irritated former president George W. Bush by suggesting he responded slowly to Hurricane Katrina because he did not care about African Americans.
But West has had a warm relationship with the president-elect, who last year said, "I'll never say bad about him… because he loves Trump."
Other top musicians including West's sometime collaborator Jay Z and his wife Beyonce had campaigned for Clinton during the campaign, calling her a uniter.
West acknowledged that his fan base was not pro-Trump, telling the crowd that he wondered if he would still sell out the rest of his tour.
sct/sst
© 1994-2016 Agence France-Presse