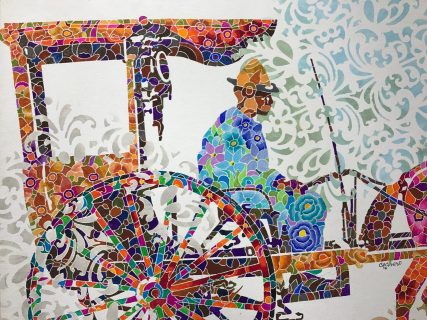 By Caesar Vallejos
Kwentong kutsero, in today's context, is fake news.  Kwentong Cachero, on the other hand, is a vibrant collection of a distinctively Filipino art subject which for many years has added luster to the charm and heritage of Manila.
Historian Ambeth Ocampo also wrote that the term kwentong kutsero meant false or exaggerated stories. During the old Manila (before cars, trucks and jeepneys made their appearance), a kutsero would park the kalesa (horse-drawn carriage) in the shade when the amo gets off  and either slept in the back seat or the pescante. Often, he would compare notes and gossip with others. Thus, we have the term kwentong kutsero."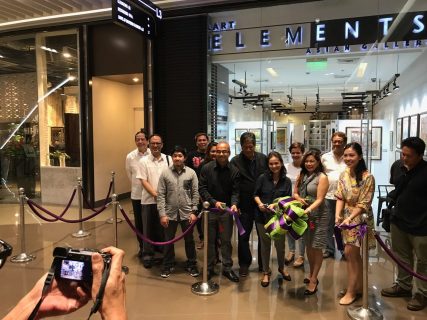 The kutsero is assumed to dwell on different topics and subjects. That inspired Enrique 'Eric' C. Cachero Jr. to adapt the theme "Kwentong Cachero" in his series of painting exhibits, that is now on its 7th run, the latest of which is at the Art Elements Asian Gallery in SM Aura until June 26, 2017.
"Different styles, iba-iba, kung anu-ano. Wala siyang collection noon. Tamang-tama, may bago siyang experiment on the subject 'kalesa'. He made it the centerpiece of his first exhibit. It was the best-seller!," Ludet Gopalan, Cachero's partner narrated. And the rest was history.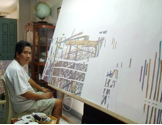 Using acrylic, poster color, pencil, pen and ink and sometimes oil as his mixed media, Cachero's artistic mission is to seek out new ways of visual representation of otherwise ordinary images – a tree, a hut, leaves and flowers, a face, even match sticks.
He produced at least 50 pieces of which is now Cachero's iconic kalesa. Some clients who would order the kalesa painting would go as far as sending the color of their upholsteries and wallpapers for Cachero to match.
He is probably the only artist in the Philippines who has mastered and exhibited the stylized interpretation of floral mosaic elements that gracefully form into emblems of horse-drawn carriages.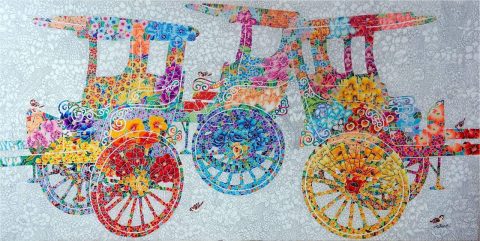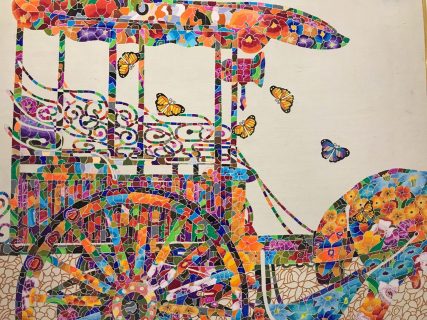 Cachero's kalesa that has spread through word-of-mouth reached Dusit Thani Manila. The prestigious hotel commissioned him to paint three of his kalesa variations sized 4 x 7 feet that are now housed in one of the establishment's exclusive club lounges. Another elegant Makati-based hotel had requested him to create the same concept but he had to turn it down because he was asked to make 12 pieces in just 12 days.
Identity of the Filipino and Art Enlightenment of the Millenials
In the Kwentong Cachero art exhibit, "you can see the identity of the Filipino. Everyone can relate to it. I like the vibrancy of the colors. It reflects the different moods of the viewer and shows the traits of the Filipino as well," Teresita Torda, Curator of the La Giratoria Art Gallery said.
"Kahit na marami ang problema, sa hirap at ginhawa, masaya. That's how I interpret this collection," she added.
Torda also said that there's a lot of competition with many galleries featuring many artists. "There are serious collectors," she said. She noted that even the career-oriented millennials are now investing in art. They are into condo-buying and they like surrealism. They invest in art auctions. The millennials have art enlightenment," Torda added.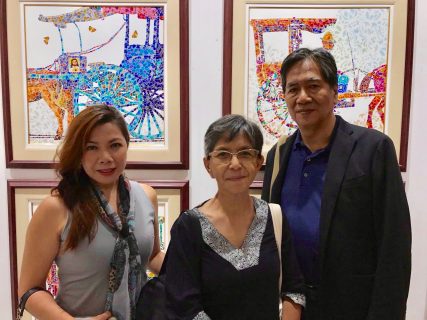 Connecting art with tourism
Because the artist's name is Cachero, veteran IT expert and former Commission on Elections Commissioner Augusto 'Gus' Lagman is amused by the artist's choice of his subject kalesa.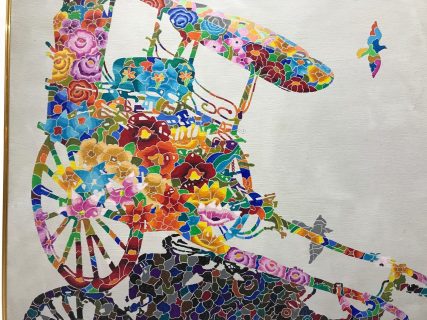 "Other parts of the world would have something similar – carts and coaches – but I can't think of any other place where I have seen a kalesa," he said.
Lagman knew the artist since the 1980s. "When I first met him, he was just into graphic arts. I actually commissioned him for some projects, and when I learned he shifted to paintings, I was happy and glad," Lagman recalled.
As a former government official, Lagman wished that government provided assistance to artists' needs like providing them more venues to display their works.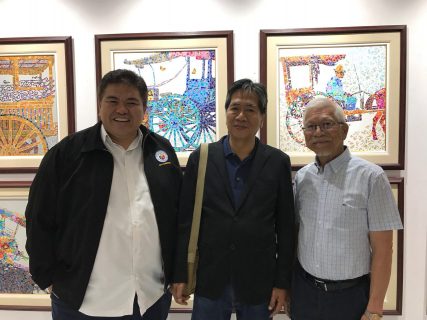 It should also be connected to the tourism campaign supported by the government. "One way of developing the artists and make them known to the world is to have tourists, as part of their itinerary, go to the galleries or a big place where artists can permanently display their works or mount them on longer periods of time. That is cheaper than bringing the artists outside the country," Lagman said.
"It doesn't cost much to support artists," he reiterated.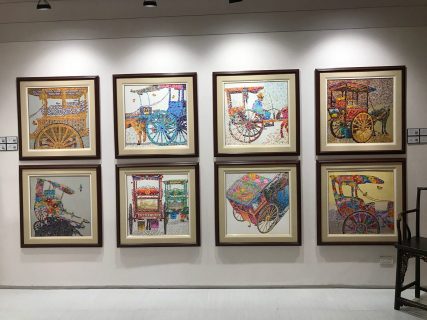 Filipino artists on the world stage
"It's quite surprising because even the young urban professionals are starting to buy small pieces," Martin Macalintal, Audiovisual Attache of the French Embassy said.
According to Macalintal, whether it is an investment or simply an art appreciation, this is a good indication of a good economy and a thriving art business.
Macalintal also mentioned that for the first time there is a delegation of the Animation Council of the Philippines (ACPI) in France under a booth that is sponsored by the Film Development Council of the Philippines.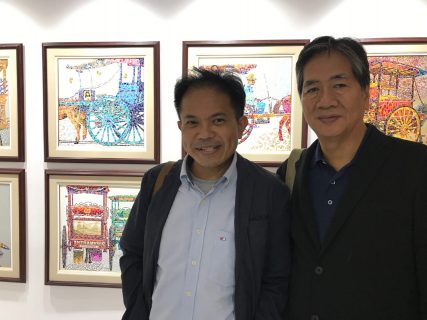 ACPI is now at the Annecy International Animated Film Festival, the biggest animation film festival in Europe. It is also described as "the world's top reference for animation films," that dates back to the 1960s, making it the world's oldest film festival dedicated entirely to animation.
This gives an opportunity for Filipino artists, animators and educators to "network with their counterparts in France with the possibility of developing cooperation agreements for training in schools," Macalintal said.
Commenting on Cachero's paintings, Macalintal said that "his particular style in mosaic works very well with the subject matter that appeals to me. The kalesas are very colorful. The kalesas have been painted since the 1800s as part of the charm of Manila which we are losing because of the so-called development. It is part of the Manila culture which we should be able to preserve.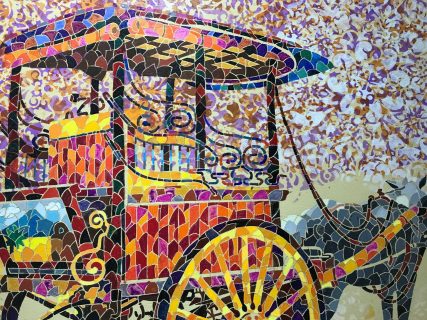 Cachero's underpinning aim is to promote the Filipino heritage as well as conquer a place for it in the international arena of world-class art. The kalesa may not be as fast as the motor-driven vehicle but as a visual icon, this Filipino art may just be the right ride to take us there.