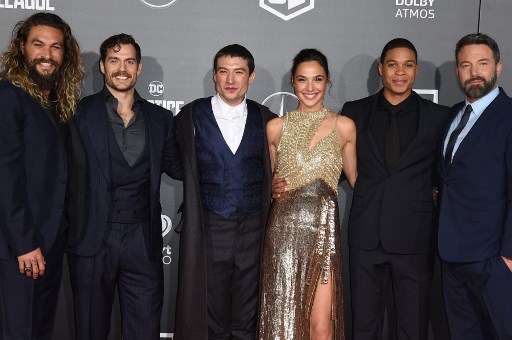 WASHINGTON, United States (AFP) — It might have placed top of the North American box office, but "Justice League" didn't have the super opening weekend predicted, falling short of expectations with takings of $93.8 million, according to data released Monday.
With an all-star cast including Gal Gadot as Wonder Woman, Ben Affleck as Batman and Henry Cavill as Superman, "Justice League" — based on the DC Comics superheroes team — sees a mash-up of classic characters fend off the threat of supervillain Steppenwolf (Ciaran Hinds).
The big-budget Warner Bros. production — which fared better internationally, taking $185 million — was forecast to earn $110 million in North American cinemas, according to Variety.
Industry analyst Exhibitor Relations, which released the figures, said "Justice League" may be the first film to debut with such high ticket receipts and still feel like "a major disappointment."
In at number two with $27.5 million was Lionsgate's newly-released "Wonder," starring Julia Roberts, Owen Wilson and Jacob Tremblay in the story of August Pullman, a young boy with facial deformities.
After thundering to the top spot last week, "Thor: Ragnarok" slipped into third place in its third weekend, taking $21.7 million.
Featuring the self-mocking humor of Chris Hemsworth as the powerful Norse god alongside Cate Blanchett as Hela, goddess of death, "Thor" has raked in an impressive $247.3 million domestically.
Meanwhile, Paramount's "Daddy's Home 2" halved its earnings from last weekend, dropping to fourth place with $14.4 million.
The festive comedy stars Will Ferrell and Mark Wahlberg as Brad and Dusty, who join forces to give their kids the perfect holiday — an effort challenged when their own fathers show up.
In at fifth was Fox's "Murder on the Orient Express," earning $13.8 million in its second week.
The fourth television or cinema adaptation of Agatha Christie's classic detective novel, the murder mystery was directed by Kenneth Branagh, who also stars as part of an A-list cast including Johnny Depp, Penelope Cruz and Judi Dench.
Rounding out the top 10 were:
"The Star" ($9.8 million)
"A Bad Moms Christmas" ($7 million)
"Lady Bird" ($2.5 million)
"Three Billboards Outside Ebbing, Missouri" ($1.1 million)
"Jigsaw" ($1.1 million)
© Agence France-Presse