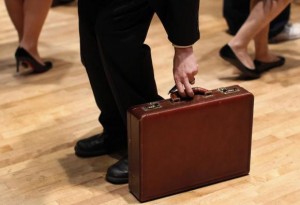 (Reuters) – Factory activity in New York state expanded at its quickest pace in nearly four years in May, but the otherwise bright growth picture was dimmed by another report on Thursday showing a surprise slump in industrial output last month.
"It's still consistent with the view that the economy is going to show stronger growth in the second quarter. The underlying momentum is improving but it's not definitive," said Josh Feinman, chief global economist at Deutsche Asset & Wealth Management in New York.
Initial claims for state unemployment benefits declined 24,000 to a seasonally adjusted 297,000 last week, the Labor Department said. It was the lowest reading since May 2007 and suggested a recent pick-up in job growth could be sustained.
In a second report, the department said the Consumer Price Index increased 0.3 percent last month as food prices rose for a fourth consecutive month and the cost of gasoline surged.
It was the biggest rise since June last year and added to March's 0.2 percent rise.
The combination of a strengthening jobs market and an uptick in inflation pressures should comfort the Federal Reserve as it scales back its monetary stimulus. However, it did not alter views the U.S. central bank will wait until at least the middle of 2015 before raising overnight interest rates from near zero.
The data failed to lift the spirits of U.S. stock investors, who focused on unexpectedly weaker earnings from Wal-Mart Stores Inc.. The dollar hit an 11-week high against the euro. Prices for U.S. government debt rose.
INFLATION STIRRING
In the 12 months through April, consumer prices rose 2.0 percent after gaining 1.5 percent in March. The increase was the
biggest since July last year and in part reflected prices coming off last year's low base when energy costs decreased.
Stripping out food and energy prices, the so-called core CPI rose 0.2 percent after advancing by the same margin in March. In the 12 months through April, the core CPI increased 1.8 percent, the biggest gain since August last year.
"By no means does the U.S. have an inflation problem in the traditional sense, but it doesn't feel as though 'lowflation' is dogging the economy either," said Michael Feroli, an economist at JPMorgan in New York.
The Fed targets 2 percent inflation, but it tracks an index that is running even lower than the CPI. Policymakers have worried that inflation is too low.
As for initial jobless claims, they have been volatile in recent weeks because of difficulties adjusting the data around the Easter and Passover holidays and school spring breaks.
The labor market is strengthening after wobbling in December and January because of an icy-cold winter, and economists expect a quickened pace of hiring to boost economic growth.
Growth braked sharply to a 0.1 percent annual rate in the first quarter as a very cold winter and businesses ordering fewer goods weighed on output. Second-quarter growth is forecast to top a 3 percent rate.
In a separate report, the Fed said output at the nation's mines, factories and utilities fell 0.6 percent in April after advancing 0.9 percent in March. It was the biggest drop since August 2012.
The decline reflected a decrease in factory production after two healthy monthly gains, and a plunge in utilities output as demand for heating moved back toward normal levels.
Better times may be ahead, however. A gauge of factory activity in New York state compiled by the New York Federal Reserve Bank jumped to 19.01 this month, the strongest reading since June 2010, as new orders surged. It was at 1.29 in April.
While manufacturing activity in the mid-Atlantic region slowed a bit in May, firms were upbeat about the outlook for the next six months, a report by the Philadelphia Fed showed.
(Reporting by Lucia Mutikani Additional reporting by Richard Leong in New York and Tim Ahmann in Washington; Editing by Andrea Ricci and Paul Simao)