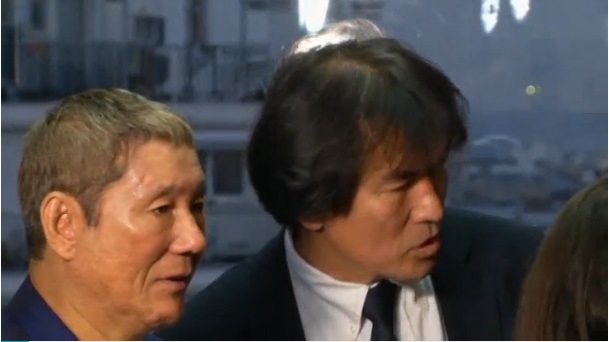 Japanese filmmaker and comedian Takeshi Kitano received France's Legion of Honor, the country's highest award, on Tuesday (October 25) at a ceremony in Paris.
The 69-year-old director of 'Outrage' and 'Violent Cop', better known for his stage name Beat Takeshi, was made an Officier, the L'ordre National de la Legion D'honneur's fourth-highest honour.
Presenting the award at the Fondation Cartier, a contemporary art museum, French politician Jack Lang said Kitano's art was "a pale and bright light which you frantically shine on to the darkest facets of our world, inviting the spectator to overcome absurdity with the weapon of laughter."
Kitani said receiving the award was a "great honour, that practically surpasses my personality".
"I feel very uncomfortable to hear these words and these compliments," he said.
"Earlier Mr. Lang said I tackle varied and diverse genres of art. I'm a long way from exploring all the genres that exist. Today, I feel that I've been suspended somewhere, stuck after having explored a certain number of genres in writing, music, theatre and others. But today thanks to this Legion of Honour I feel boosted with new energy to be able to tackle other domains that remain for me to discover," he added.
The Legion of Honour is France's highest public distiction which has been awarded to the likes of actor Clint Eastwood and singer Liza Minnelli.
Created by Napoleon Bonaparte in 1802, and symbolized by a red lapel thread, the Legion of Honour has three grades, Chevalier, Officer and Commander.
(c) Copyright Thomson Reuters 2016