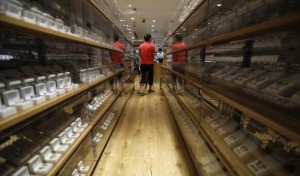 (Reuters) – The record 19.1 percent month-on-month rise in core orders, a leading indicator of capital spending in the coming six to nine months, blew past a 6.0 percent gain forecast by economists in a Reuters poll.
Companies surveyed by the Cabinet Office forecast that core orders will rise 0.4 percent in April-June from the previous quarter, which would mark the fifth straight quarter of gains. In January-March, core orders rose 4.2 percent, the data showed.
The readings bode well for the Bank of Japan's argument that the economy can weather the tax hike, likely easing pressure for fresh monetary stimulus.
The BOJ is set to stick to its upbeat view of the economy at its policy review this week and may raise its view on capital expenditure, suggesting that no immediate expansion of monetary stimulus is forthcoming.
The Cabinet Office data comes on the heels of the Reuters Tankan survey which showed business morale slid in May but is seen improving in the months ahead, providing evidence that the pain from the April 1 tax rise will likely be short-lived.
Capital spending – long a weak link in Japan – is key to negotiating a temporary dip in the world's third largest economy after the sales tax rose to 8 percent from 5 percent on April 1.
Tepid exports growth has already raised concerns among analysts about the risks to the growth outlook as policy makers seek to safeguard a recovery after years of stagnation and falling prices.
"Higher corporate profits and easing of excess production capacity are likely to keep capital spending in uptrend ahead," said Yoshiki Shinke, chief economist at Dai-ichi Life Research Institute in Tokyo.
"Companies may also face the need to replace their ageing plant and equipment from now on."
The Cabinet Office raised its assessment of machinery orders, saying they are in rising trend.
REBOUND
In the Reuters Tankan poll for May, the index of sentiment among manufacturers fell to plus 19 from a near seven-year high of plus 25 in the previous month. At plus 21, the service-sector gauge was down 14 points from a record high in April.
The indexes for manufacturers and non-manufacturers are expected to improve to plus 21 and plus 28 respectively in August, meaning that optimists far outweighed pessimists, according to a poll of 400 big and medium firms, of which 246 responded during April 25-May 12.
The increase in the sale tax has stoked worries that it could severely crimp consumption and derail the economic recovery engineered by Prime Minister Shinzo Abe's aggressive fiscal and monetary stimulus policies.
Company executives also noted that slowing growth in China and other emerging markets have dragged on exports and the economic recovery, echoing concern among policymakers.
Japan's economy grew at its fastest pace in more than two years in the first quarter as consumer spending jumped and business investment turned surprisingly strong in a sign of confidence in the prospects for future growth.
The BOJ has stood pat since offering an intense burst of monetary stimulus in April last year, pledging to double base money via aggressive asset purchases to accelerate consumer inflation to 2 percent in roughly two years.
(Editing by Shri Navaratnam)