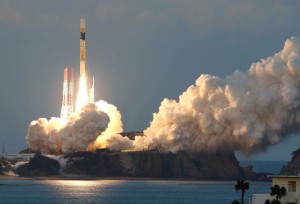 TOKYO, Japan (AFP) — Japan successfully launched a jointly developed space observation satellite on Wednesday tasked with studying mysterious black holes, the country's space agency said.
The ASTRO-H satellite, developed in collaboration between the agency, NASA and other groups, is set to orbit at an altitude of about 580 kilometres (360 miles) and observe X-rays emanating mainly from black holes and galaxy clusters.
The satellite was carried out by the country's mainstay H-IIA rocket, which soared towards the heavens from the Tanegashima Space Center in southern Japan under mostly clear late afternoon skies.
The broadcast was nationally televised and the Japan Aerospace Exploration Agency said the satellite separated from the rocket with no difficulty.
Black holes have never been directly observed, but the announcement on the first detection of gravitational waves earlier this month indirectly added to the evidence that black holes do actually exist.
The Japanese rocket, which was initially scheduled for liftoff last Friday but was postponed due to bad weather, was launched at 5:45 pm (0845 GMT).
© 1994-2016 Agence France-Presse