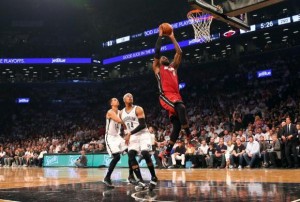 (Reuters) – A three-point shot from the corner by Chris Bosh, set up by a pass from James to Mario Chalmers, snapped a 94-94 tie with 57 seconds to go in a see-saw struggle of a fourth quarter and Ray Allen made four critical free throws to ice the win.
The tense fourth quarter featured six lead changes and four ties before the visiting Heat pulled away in the final minute.
The victory gave Miami a 3-1 lead in the best-of-seven series with a chance to clinch it at home in Game Five on Wednesday.
After losing Saturday's Game Three to Brooklyn at the Barclays Center, James carried the Heat on his broad shoulders, tying his career playoff scoring high by hitting 16-of-24 shots including a trio of three-pointers, and going 14-of-19 from the free-throw line in the bruising, physical contest.
Team mate Dwyane Wade added 15 points.
One thing that failed to go James's way was a miss on his final free throw, with one second left on the clock. That got him muttering to himself as he fell just short of the half-century mark and a career playoff scoring best.
"That's the first time I've been disappointed with myself in a win," James, who played every minute of the second half, said with a grin. "It doesn't take away from a win, but that's a free throw and I hate to miss free throws.
"Scoring 50 in a playoff game would have been pretty cool."
Joe Johnson led a balanced Nets attack with 18 points, with Paul Pierce contributing 16 as five Brooklyn players scored in double figures.
"It's very disappointing," said Johnson. "We let one get away on our home floor."
BEST PLAYER
James carried Miami on his broad shoulders, steering the Heat's spread offense from the top of the key as the ball handler and distributor when he wasn't bulling his way to the hoop for layups or drawing fouls.
Miami coach Erik Spoelstra said James willed the team to victory.
"Whatever is needed," said Spoelstra. "He is simply indefatigable the entire game on both ends of the court."
"He was what was needed, on the road. That's what makes him the best player. Whatever's needed. Sometimes that means facilitating and sometimes that means going out of the box and scoring 49."
Things were testy at the start, with first-quarter technical fouls for James and Shane Battier of the Heat and the Nets' Pierce and Alan Anderson.
The Heat started quickly, making nine of their first 12 shots and led 27-22 at the end of the first quarter, boosted by 12 points from James.
With James sitting at the start of the second quarter, Brooklyn opened with a 9-2 run for a 31-29 lead, but James took charge once he returned and Miami led 56-49 at intermission.
James scored 13 points in a row at one stretch of the third quarter but the Nets were able to claw their way back, lifted by the chants of "Brook-lyn, Brook-lyn" from the sellout crowd to cut the edge to 79-76 going to the final quarter that once again swung the Heat's way.
(Editing by John O'Brien)