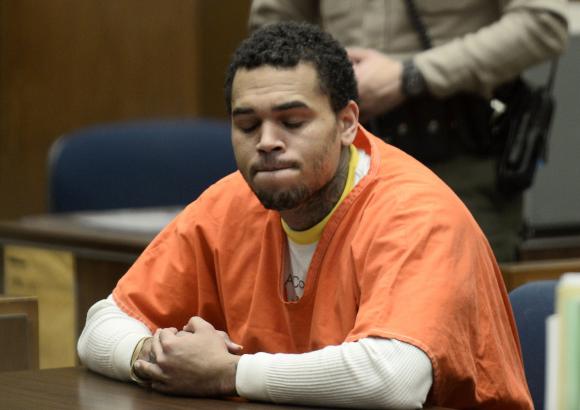 (Reuters) – Grammy-winning R&B singer Chris Brown admitted to violating probation from his 2009 assault of pop singer Rihanna and was sentenced to a year in jail by a Los Angeles judge on Friday.
Brown, in jail since March 14, could end up spending an additional 131 days in jail as part of his sentence after so far earning 234 days of credited jail time, but the singer's attorney expects Brown to be released over the weekend.
"I would expect Chris would be out of jail before the weekend's up or Monday," attorney Mark Geragos told reporters after the hearing in which Brown was brought in shackled and wearing an over-sized orange prison suit.
By admitting in L.A. to wrongdoing in a Washington DC misdemeanor assault case, the 25-year-old avoided possible punishment of up to four years in jail and brought closure to a year of legal wrangling that included stints in rehab.
But Brown must still resolve his Washington DC case. He was arrested in the U.S. capital last year for allegedly punching and breaking the nose of a man who jumped into a photo being taken of the singer and two fans. [ID:nL1N0II21B]
His Washington trial has been delayed, but Geragos said he expects the L.A. sentencing to lead to a resolution of the case there.
The singer has been held in L.A. County's prison in downtown and his release will be determined by the County Sheriff's department, which typically springs inmates in similar cases after a couple of days.
Brown must also undergo therapy and random drug testing as part of his sentence from Los Angeles Superior Court Judge James Brandlin, who said he took into account an undiagnozed mental illness and the singer's young age when he assaulted Rihanna on the eve of the 2009 Grammy Awards.
Brown's probation was reinstated Friday and is expected to end in January 2015. He must also complete the 1,000 hours of community service he was sentenced in August last year after prosecutors accused him of cutting corners on the work.
Brown made his mark in the music world as a teenager and, despite several brushes with the law, has been able to bounce back professionally after beating up his world-famous girlfriend.