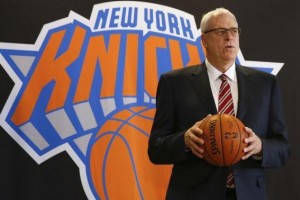 (Reuters) – Phil Jackson was officially named president of the New York Knicks on Tuesday in a move the National Basketball Association team hopes will help restore a winning culture to the franchise.
Jackson, a link to the Knicks' glory days as a defensive-minded role player on teams that won two NBA titles in the early 1970s, went on to win a record 11 NBA titles as a head coach – six with the Chicago Bulls and five with the Los Angeles Lakers.
Knicks owner James Dolan announced the appointment at packed news conference at Madison Square Garden, the team's home arena, following a week of speculation that Jackson would take over in charge of the team's basketball operations.
"There is only one Phil Jackson, and he is synonymous with winning basketball teams," Dolan said.
"His history of success in the NBA is unrivaled, and he is the ideal executive to lead our team and develop short and long term plans that build a successful franchise and result in an NBA championship."
Jackson, 68, who retired from coaching in 2011, was greeted at the news conference by former teammates Walt Frazier and Dick Barnett, while to his right, in the window of the Knicks merchandising store in the Garden lobby, racks were lined with replicas of his old No. 18 on throwback gray Knicks T-shirts.
"I started my career as a Knick, and know what it feels like to win in this great city," Jackson said.
"I take the task of helping to deliver a winning team to our fans seriously, and look forward to combining my vision of the game with Steve Mills' abilities as a general manager."
Jackson said he would be moving to New York from Los Angeles to tackle the job full force after signing a five-year deal, which local media has reported is worth $12 million a year.
The Knicks have not won a championship since 1973, when Jackson was still in his playing days, and are struggling to make the playoffs this season.
With 15 games left in the regular season, the Knicks are ninth in the Eastern Conference with a 27-40 record, four games back of the eighth and final playoff spot.
RIGHT TIME
Jackson, courted by the Knicks back in November, said the time was right for him to return to basketball, although he was not fit enough to consider coming back as a coach.
"I went through a series of operations, five I think, knees and hips and other things," he said. "I thought if I came back to full health, I'd lead an active life. Play some basketball.
"Go to England and look at soccer clubs, go to Australia and see my old buddy (and former player) Luc Longley, who likes the football they play down there.
"However, I'm not going to play ball again. I'm too old to play and too lame to coach."
Jackson, who walked in with a slight limp, said that over the last two years as he recovered from surgeries and did his physical therapy, "people started coming to see me … tapping into what I've learned, what I could impart to them."
When it looked last year like an anticipated franchise move might bring a team back to Seattle, Jackson was approached about a management position and that got him thinking.
"That was of interest to me," he said. "It never happened. But I got intrigued, the idea of being in an executive management position.
"I think I can make the change."
JORDAN SUPPORT
Hall of Famer Michael Jordan, the driving on-court force for Jackson's six titles with the Bulls, said he thought his former coach would do well in his first crack at basketball management.
"Phil can do some good things with them because he's gifted," Jordan, now chairman of the NBA Charlotte Bobcats, told ESPN.
"Phil is fantastic at managing egos and personalities, getting everyone on the same page and maxing out whatever potential is there for what should be the common and ultimate goal."
Jackson got his grounding in fundamental team basketball under the coaching of Red Holzman during his Knicks days, and he said he would focus on bringing the right kind of player to New York to form the sort of club he prizes.
He promised no quick fix, saying there was much work to do in reshaping a team that has relied heavily on the scoring of Carmelo Anthony.
"Championships come with some deliberate action," said Jackson. "There are very few accidental championships in the
NBA."
Jackson said the opportunity to crown his career by returning to New York and building the Knicks back into champions was hard to refuse.
"This would be a pinnacle," said Jackson. "It would be a capstone on a remarkable career that I've had."