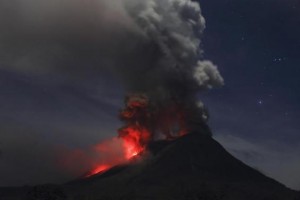 (Reuters) — Indonesia's Mount Sinabung volcano erupted and killed at least 14 people on the western island of Sumatra on Saturday (February 1), the first time it is known to have claimed any lives, a senior government official said.
The volcano has becoming increasingly active in recent months, regularly spewing columns of ash several kilometres into the air. The government has evacuated tens of thousands of residents near the area.
The head of the evacuation team, said the victims died near Suka Meriah, a village less than five kilometres from the peak of the volcano.
"The victims were in the path of the hot cloud at Suka Meriah village," Prince Meyer Puton said outside a local hospital.
"Now we have recorded three people with burn injuries and 14 people dead."
Sinabung is one of nearly 130 active volcanoes in the world's most populous country, which stands along the "Ring of Fire" volcanic belt around the shores of the Pacific Ocean.