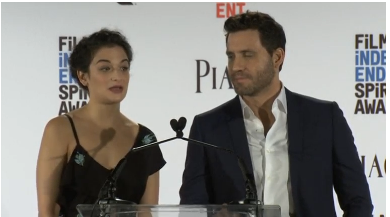 LOS ANGELES, California (Reuters) –Two coming-of-age movies, "Moonlight," and "American Honey," got a leading six nominations each on Tuesday (November 22) for the Independent Spirit Awards which celebrate low-budget artistic films that often also do well at the Oscars.
Grief-driven blue-collar family drama "Manchester by the Sea" and "Jackie," about former U.S. first lady Jacqueline Kennedy, also did well, earning nods that included best film and best actor for their respective leads, Casey Affleck and Natalie Portman.
"Moonlight," which follows a young black man growing to adulthood in a hard-scrabble Miami neighborhood, received six nominations in all, including best film, best director Barry Jenkins and for Jenkins' screenplay.
The cast also received the Robert Altman award for Best Ensemble which is shared with the director and casting director.
Shia LeBeouf, 30, efforting a comeback after alcohol disrupted his career for five years, was nominated best supporting actor for his turn as the leader of a gang of thieves in "American Honey."
The British-directed tale of a teenage runaway who travels across the American Midwest with a band of misfits, will also compete for best film, best director, and best actress for newcomer Sasha Lane.
The last three winners of the Independent Spirit Awards – "Spotlight", "Birdman" and "12 Years a Slave" – all went on to win the best picture Oscar, the highest honor in the movie industry.
Last year's award season was mired by a distinct lack of diversity with all the Academy Awards acting nominees being white. Josh Welsh, President of Film Independent, feels this year's Spirit nominations show a healthy range of diversity.
"I think half of all the directors nominated this year are women and I think there's a good amount of ethnic diversity and LGBT as well," he told Reuters. "I don't think that's specifically about this award show, I think that's about independent film in general tends to be a more diverse, inclusive sector of the film industry and I think the awards reflect that."
Chris Gardner, who works as a staff writer at Hollywood Reporter, expressed surprise at the omission of actors Michelle Williams ('Manchester by the Sea') and Joel Edgerton ('Loving') but admitted the inclusion of 'American Honey' and 'Chronic' were interesting choices.
"Perhaps 'Moonlight', 'Loving', and 'Manchester by the Sea', these are all films that will factor in the Academy Awards race but some of the smaller films like 'Chronic' and 'American Honey', while the recognition here today is deserved according to the voters, this may be the end of the road for them in terms of high profile awards recognition," he said.
But this year, some of the films getting the most awards buzz were not eligible for the Spirit Awards, which is open to movies made for less than $20 million.
That meant no nominations for musical "La La Land," psychological thriller "Nocturnal Animals" and adoption drama "Lion."
The 2017 Independent Spirit Awards will be handed out at a ceremony in Santa Monica, California, on Feb. 25 – the day before the Academy Awards ceremony.