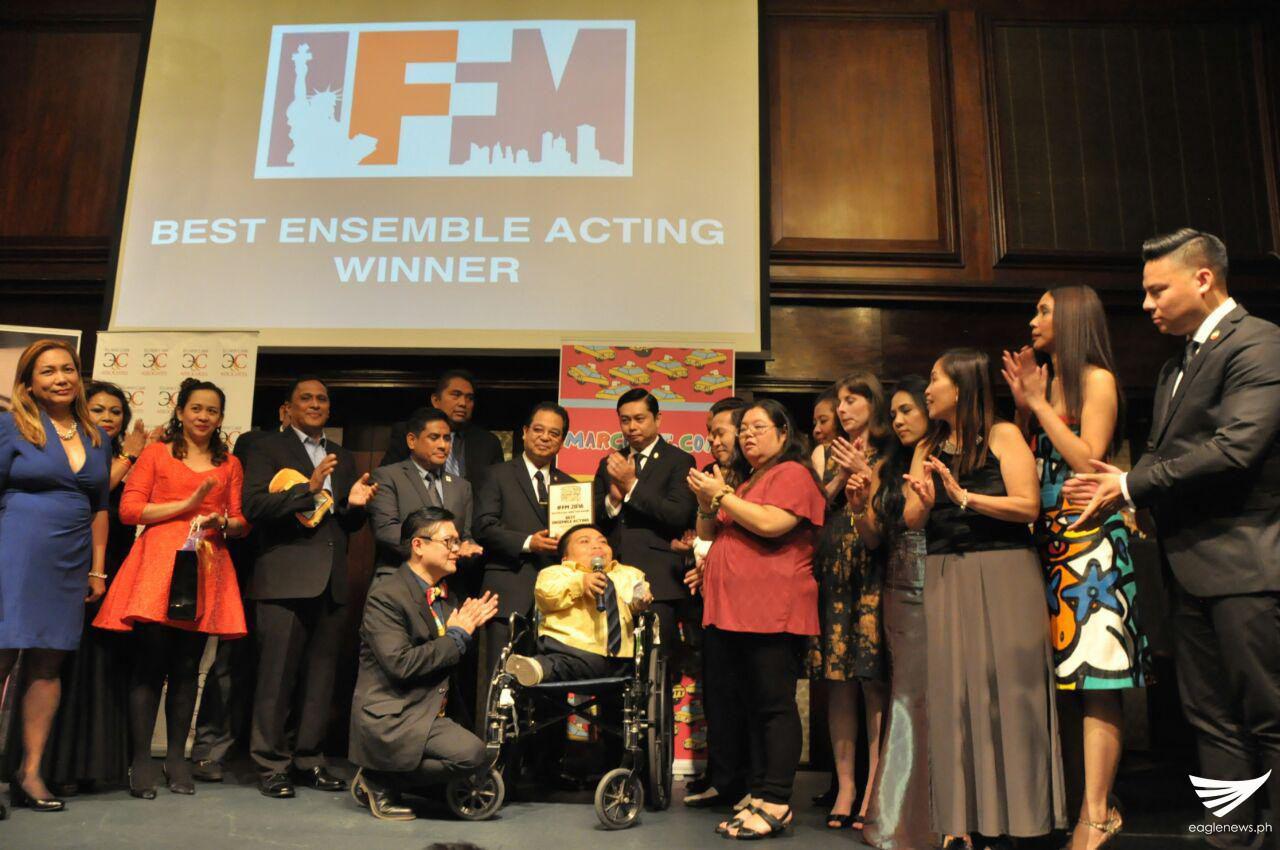 (Eagle News) — The Philippine independent film "Walang Take Two" (No Second Take) of the Iglesia Ni Cristo's INCinema productions has bagged the award for "Best Ensemble Acting" at the International Film Festival Manhattan 2016.
The awarding happened after the opening night screening of the film at the Philippine consulate in New York on October 20.
The IFF Manhattan recognized the great acting of the whole cast of this multi-awarded Philippine independent film that had previously bagged awards at various prestigious international film festivals since early this year.
Among these awards were the "best director in a foreign film" award for the movie's director Carlo Jay Cuevas last February at the International Filmmaker Festival of World Cinema in London, and the "best film" and "best cinematography in a foreign language film" awards from the 2016 Madrid International Film Festival.
It had also won two major awards from the World Film Awards in Jakarta –the "Platinum World Award" for film director Carlo Jay Cuevas and the "World Newcomer Filmmaker of the Year."
Erin Mairead O'Kane, Managing Director of the International Film Festival Manhattan, was all praises for this film which involved first-time actors and actresses whose acting skills were honed only through their participation in previous INCinema short film productions.
"I loved it, I just thought that it was a great story about family and life and just how life is so precious. Just when you think that everything's going bad, there's a lot of good in the bad of life, and you could see that in the film," O'Kane said after the film screening.
She said each character in the film was "a character in itself"—a key factor on why the film bagged the award for "Best Ensemble."
Even veteran and multi-awarded Filipino screenwriter, journalist and playwright Ricardo "Ricky" Lee who had written more than 150 film scripts since 1973, that earned him more than 50 trophies from various award-giving bodies, including a 2003 Natatanging Gawad Urian Lifetime Achievement Award from the Manunuri ng Pelikulang Pilipino (Filipino Film Critics), praised the film.
"I saw "Walang Take Two," and I was laughing every minute of the film, and then suddenly it hits you in the heart and suddenly you are crying inside, and I like films that way—tawa ka nang tawa before you know it, tinatamaan ka na pala, at umiiyak ka na," Lee said when interviewed at the Philippine Consulate in New York after the film screening.
"So very nice, very good work from an ensemble of actors. Very simple small film, and yet it looks big in its content," he said of INCinema's "Walang Take Two."
Lee also won the Life Time Achievement Award in Screenwriting at the IFFM.
The award for best ensemble acting refers to an approach to acting that aims for a unified effect achieved by all members of a cast working together on behalf of the play or film, rather than emphasizing individual performances.
Dennis Garcia, who plays Oblax, the diminutive character in the film, accepted the award on behalf of the whole cast.
"First of all I would like to thank our dear Almighty God for all this blessing, secondly our Executive Minister Brother Eduardo V. Manalo who is celebrating his birthday on October 31st. Happy happy birthday Sir! We love you! Thank you for the unconditional love and support," Garcia said as the crowd cheered him on.
He also thanked their family who supported them while shooting the film, INCinema cast and crew, the jurors and organizers of the IFF Manhattan, and all INC brethren and "Filipinos around the world."
"Walang Take Two" was the film for the opening night of the International Film Festival Manhattan this year.
"We usually try to pick a film from the Philippines for opening night in correlation with the consulate," said IFFM Managing Director Erin Mairead O'Kane.
The film revolves around the ambitious but poor young Filipino film-maker "Hapi" who wants to make it big as a first-time "indie" director and film maker. The twists in his life and those around him, punctuated with hilarious comedic situations and dramatic turn of events, are something which all audiences would appreciate.
The line "Walang Take Two" or "there are no second takes" is what Hapi always hears from his father Mang Julian, a retired videographer.
In his quest to find ways to produce his "indie film," he painfully learns that he has to be careful in his decisions because there are choices one might make in life that can never be taken back –proving the wisdom behind his father's usual quip that sometimes there are no second takes.
"Thank you for this film, I thought it was wonderful, it was really a gift. And it was a great story about life, how to take life as it comes and to know that life is a gift," IFFM managing director O'Kane said.
Ricky Lee, congratulated the producers of the film, saying they should make more movies like this.
On what was the best part of the movie for him, Lee said, "The journey of the father and the son towards really getting to know each other. The use of the camera to bring the two together so suddenly it becomes the story of just the two of them. Oh I like that very much!"
He said he was not even aware that the INC produced the film, and said that it was a film that had no barriers, no boundaries in its message. He said it was a film that could be appreciated by anyone whatever his belief or religion was.
"Ang importante naniniwala ka sa triumph ng human heart. That the human heart can transcend all sorts of problems. And in the end, faith is restored in humanity. So I think that speaks to all of us," he said.
Aside from "Walang Take Two" and Lifetime Achievement Award in Screenwriting Winner Ricky Lee, the other winners from the Philippines at the IFFM were the following:  Best Student Film for the " The Equation" directed by: Rhoda Joy Blaza (USA/Philippines); Best Music Video for  "Exist" Kirby Assunto Music Video, Director: Kurt D. Fick (USA/Philippines);  IFFM Most Popular for "Magtanggol" directed by: Sigfreid Barros – Sanchez (Philippines);  Best Short film for " Lucky Jinx" directed by  Giovanni Baldeserri (Philippines); best actor for a short film Leon Miguel for "Redlights"  (Philippines); Best Actor for "Ignacio de Loyola" Actor Andreas Munoz (Philippines / Spain);  Best Actress, " Siphayo" Actress Nathalie Hart (Philippines); Best Socially Relevant Film, "Filemon Mamon" directed by Will Fredo Producer: Madonna Sanchez (Philippines); and best Feature Global for  "Gemini" directed by Ato Bautista (Philippines).
 (With video and photo contributions from Eagle News Service New York correspondents Elle Aguilar, Percival Cunanan, Roni-Lee Anicete)