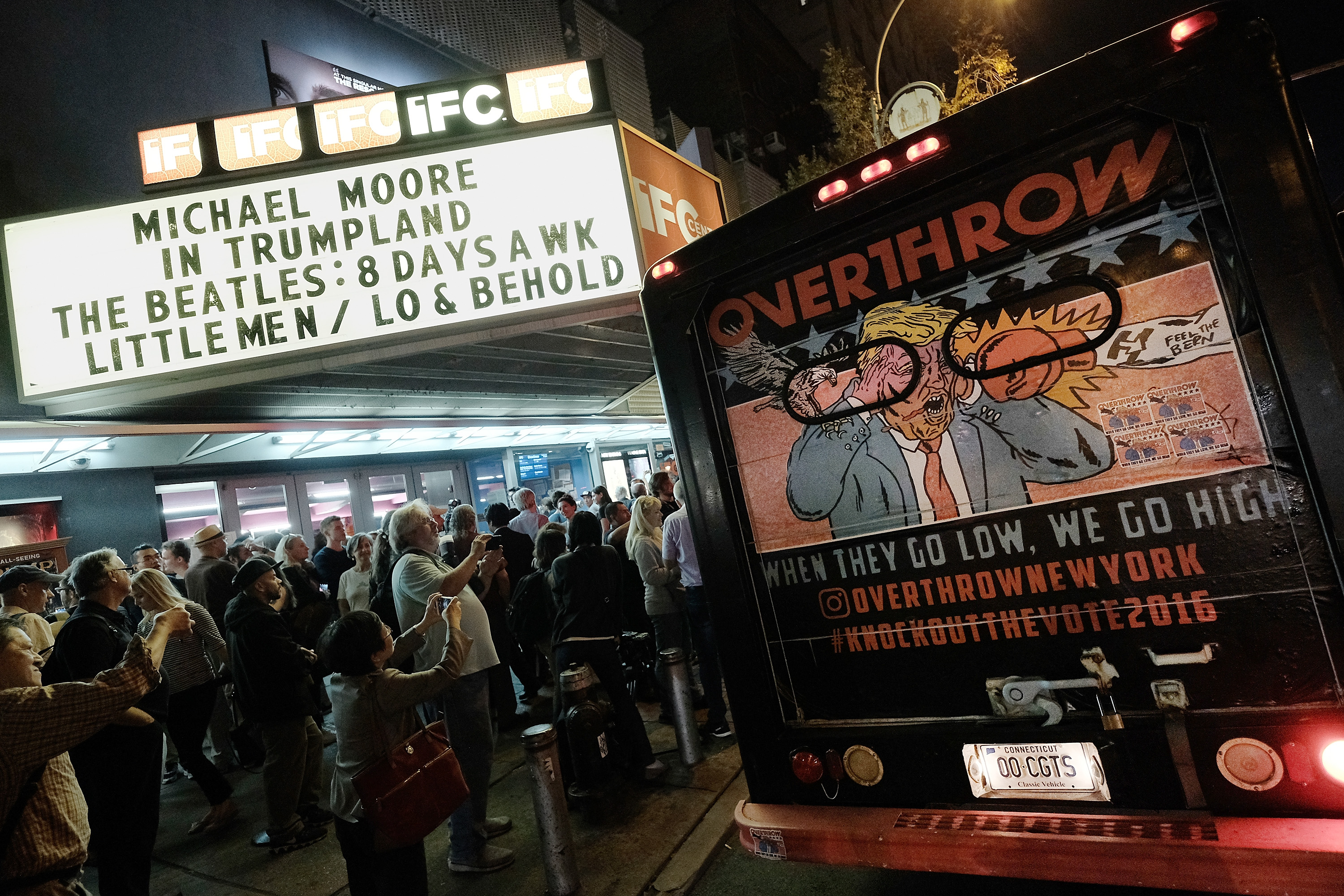 by Thomas URBAIN
NEW YORK, United States (AFP) — Straying from his normal vitriolic skewering of the status quo, Michael Moore's latest documentary "Michael Moore in TrumpLand" is less of an attack on Donald Trump than an ode to Democrat Hillary Clinton.
The award-winning provocateur unveiled the surprise film just three weeks before the US election, and he told journalists he made it in just 12 days.
"I wanted to do something subversive here, something that wouldn't be expected," Moore said. "That I, of all people, would be making the case for Hillary."
The 62-year-old known for lambasting capitalism, large corporations and assault weapons refrained from roasting Donald Trump, as many expected he would.
"Nobody needs a film saying that Donald Trump is full of shit, and an awful human being. Who would come to see that movie?"
Moore — famous for hits including "Fahrenheit 911" and "Bowling for Columbine" — said Wednesday that Trump had not compelled him to act, but that he was moved by fear that Clinton lacked the necessary momentum to win the November 8 election.
"The more I saw Hillary supporters doing that end-zone dance like it was all over, the more I kept thinking: you are electing Donald Trump."
The leftist documentarian's latest film is a one-man show intent on humanizing Clinton and swaying Trump supporters, Clinton doubters and those not planning to vote.
"Half the country isn't going to vote," he said. "This is intended to reach them."
Moore's documentary is set in a theater in the small city of Wilmington, Ohio — a place the filmmaker calls "serious Republican territory" — to make his appeal for Clinton.
'An unlikely messenger'
Moore grew up and still lives in Michigan, a Midwestern state run by a Republican governor that is widely known as the center of the economically hard-hit US automobile industry.
The filmmaker estimated at least 150-200 of the 700 people who attended his show in Wilmington were "Trump people."
"We didn't go for the rabid racists," he said. "We were looking for people like me, who grew up in an autoworker family."
"I live outside the bubble."
In his plea for Clinton, Moore said he tried to reach Trump supporters by using humor and a dose of empathy.
"These are human beings," he said. "I know who these people are. When it says TrumpLand, people were expecting to see people in white robes."
"That's not what this is about."
Moore elicited tears when he reminds them of the long struggle for women's emancipation, and the need to keep working toward a more egalitarian society.
As the nation's first black president, Barack Obama, winds up two terms in office, Moore says the election of the first US female president is apt.
Moore admits he has never voted for Clinton — his Democratic primary preference was Bernie Sanders this year and Obama in 2008.
"I think I'm an unlikely messenger," he said.
After a free-prescreening the prior night at a New York theater, on Wednesday the film began regularly running there and in a Los Angeles suburb. It is slated to open in some 30 other US cities and be available online.
Moore emphasized that even though he is stumping for the Democratic candidate he is far from signing her a blank check — if she is elected and fails to stick to her program, he will consider running in 2020.
"She needs to not go back on her word," he said. "I'm not kidding around."
© 1994-2016 Agence France-Presse