(Eagle News) — It was an inspiring scene.
South Africans singing in joy as they planted pecan trees and olive trees, as well as various vegetables in a land transformed into an eco-farm by the Iglesia Ni Cristo (Church Of Christ) to help the people of Ladybrand and other nearby towns in South Africa.
In South Africa, where there are many unemployed, this 508-hectare eco-farm, is now seen as the land of promise by people there who are mired in extreme poverty.
"The fact that this farm was bought by the Church Of Christ to make our lives better, it gives me tremendous joy," said Limakatso Malia, a South African church member, who is raising her three teenage children all by herself.
"When I began work here in the farm, my life changed tremendously. It is because before I was just living through government provisions, and I am the only breadwinner in my family," she said.
"Now, my family and I have a good life. I am very much happy."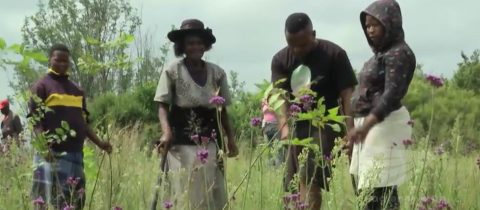 Life-changing moment
Malia, an INC member in Ladybrand, is grateful as she is one of the more than 200 South Africans employed in this eco-farm of the Iglesia Ni Cristo that was inaugurated by the Church's Executive Minister Brother Eduardo V. Manalo on August 6, 2017
It was also the same day that the INC dedicated a new house of worship in South Africa – the locale congregation of Ladybrand — in a worship service officiated by the INC Executive Minister attended by the INC brethren, including South Africans. This is the sixth house of worship constructed by the INC in South Africa.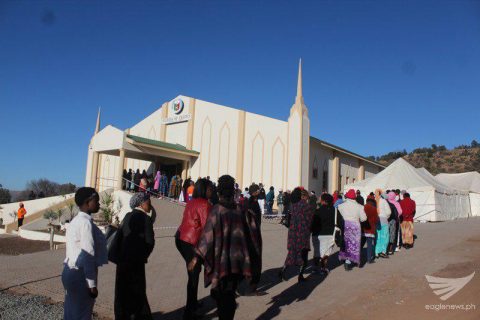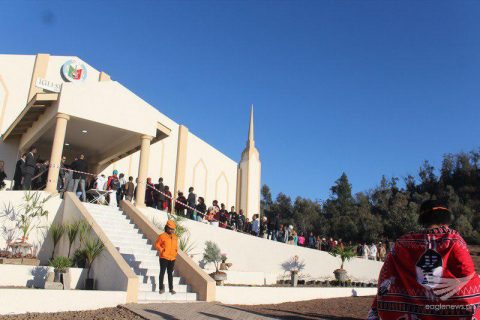 Last year, two houses of worship were dedicated to God in worship services led by Brother Eduardo. These were the houses of worship in Johannesburg and Cape Town. This year, the INC also dedicated houses of worship in Thaba Nchu in Free State, South Africa on July 30; and in Ha Fochane Village in Semonkong in Maseru, Kingdom of Lesotho, which was dedicated on August 2. The INC already has a house of worship in King William's Town, South Africa.
Moeketsi Lesenye, another South African worker in the INC's eco-farm, recalls how working there had changed his and his family's life. He now has hope — life can be way better than what they had before.
"All the people we know didn't have a job. We are so very poor," he said.
"We are like beggars. Because most of the time, when I don't have maize meal, I will ask someone: Do you have (bread)? Please will you give me bread. I'm so hungry'," Moeketsi said.
"It's because of poverty. Sometimes, we sleep without eating. We sleep without any food in two or three days — even in five days — we don't have food. We would go to town to see what we can do. And we would come home with nothing," he said, recalling his life before he was hired to work in the INC eco-farm in Ladybrand.
"Now we're so happy because of this farm of the Church Of Christ. I don't know what I can say to you. Thank you Lord because we have the Church Of Christ here in Manyatseng. Thank you Lord because You have made a difference in our lives in Manyatseng," said Moeketsi, one of the many South Africans who have been given work in the INC eco-farm, who are not INC members. He comes from Manyatseng, a part of the agricultural town of Ladybrand.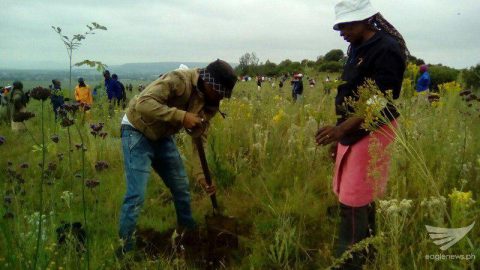 The INC eco-farm in Ladybrand, a small agricultural town in the Free State province of South Africa is the first eco-farm of the Church Of Christ outside the Philippines.
Ladybrand is situated 18 kilometers from Maseru, the capital of Lesotho. It is one of the five towns that form the Mantsopa Local Municipality in eastern Free State province in South Africa
The INC eco-farm here is located at 2 Glen Alphen Farm in Ladybrand, with a land area of 508 hectares. It was bought by the Church Of Christ for 8 million South African Rand or around US$601,500.
After the "Aid To Humanity" activity of the Church Of Christ was conducted in the last quarter of 2016 in Ladybrand, its residents and those of its neighboring towns had eagerly hoped for the fulfillment of this agricultural livelihood project promised by the Church.
Modern agriculture techniques employed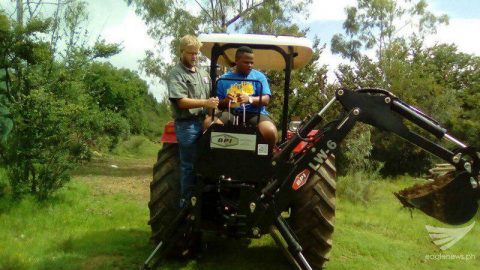 The main crops of the eco-farm are pecan and olive trees. There are 20,000 seeds planted for each kind. Intercropping is also done to prepare the land for immediate use. In addition, cork oak and blue gum trees were also planted.
The pecan tree is one of the high value crops in the eco-farm. So are the olive trees – the source of first class oil for cooking and salads.
Danny Lovino, an agriculturist in the ecofarm, said that the pecan trees planted in Ladybrand were already grafted, so instead of waiting for five years before nuts can harvested, it would only take three years for pecan nuts to be produced.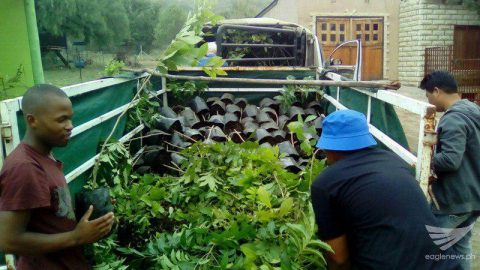 While waiting for the planted seedlings of the main crops to grow, intercropping or multiple cropping is being done.
This is an agricultural practice involving growing two or more crops in proximity, that is, by planting a variety of crops on the same field where the planted main crops are.
Vegetables like cabbage, eggplant, bottle ground, squash, broccoli, pechay, and other crops have been planted on the six meter space between each pair of the planted pecan tree seedlings.
Basically, this is to maximize the use of the land and its soil fertility to its full potential. This will also reduce plant diseases, prevent hillside erosion, and control the spread of weeds. Furthermore, such agricultural practice will certainly provide food for the farm workers and their families.
When the Church acquired the 500-hectare land, different species of trees are already there. The land has about 600 mature cork oak trees. The bark of this tree is processed and used as stoppers in bottled products, as well as in making pin boards, flooring, furniture, and even footwear. And such 600 cork oak trees are ready for harvest, which means a sure work opportunity and an additional source of income for the farm workers.
Blue gum trees are also in abundance in the farm. Such trees cover more than 100 hectares of the entire farm and are also mature and ready for harvesting and processing.
The trunk and branches of this tree are basically used as firewood especially during winter season and is regarded as the first class firewood in this part of Africa. There are also other kinds of trees in the farm that are indeed useful for timber and for making furniture such as pine tree, cypress, cedar tree, and more, including those considered as endemic.
Livestock production starts
Livestock production has also started in the eco-farm.
The 50-hectare part of the farm has already been fenced and partitioned for animal enclosures and the other implements needed are now being readied for livestock production.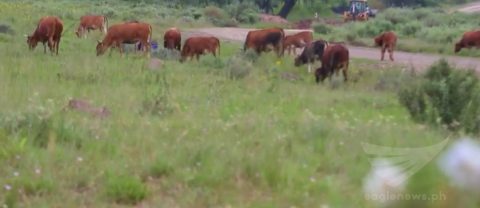 Initially, 250 cattle, 250 goats, and 250 sheep are being prepared as introductory livestock for raising, breeding, and producing commodities, and these animals will be grazing the grassland of the Ladybrand Ecofarm in the very near future.
Many members and non-members were already hired to keep the eco-farm sustainable. This endeavor of the Church Of Christ and its Administration continue to help the poor and the unemployed, not only by providing them a source of income but most importantly introducing to them the importance of services to God.
"Totoo, na nakatutuwa napakaraming kapatid at hindi kapatid na nagtratrabaho dito. At tuwang-tuwa sila na kausap natin ang iba na ngayon lang daw sila nagkaroon ng permanenteng hanap-buhay," said INC General Auditor and minister Glicerio Santos Jr., in an earlier interview.
(It is truly heartening that there are many brethren and even those who are not church members working here. And they are very delighted when we talked to them, because they say that this was the first time that they had a permanent job.)
"Ngayon naman ay ikinatutuwa ng ating Tagapamahalang Pangkalahatan, kahit bahagya nakatutulong ang Iglesia Ni Cristo sa pagbibigay ng maraming marangal na hanap-buhay sa kanila. (Now this has brought joy to our Executive Minister, that the Church Of Christ was somehow able to help in giving them a decent source of livelihood)," Brother Santos added.
South Africans, local officials express gratitude to INC
The municipal manager of Mantsopa, Selby Selepe, is thankful that the Church Of Christ had chosen the town of Ladybrand to be the site of the Church's first eco-farming project outside the Philippines.
"We'd like to thank Brother Eduardo V. Manalo for firstly for thinking about this place. We know that every South African needs some support. Our condition is that the unemployment rate is very high. And when people are unemployed, obviously, there'll be poverty in big numbers," Selepe said.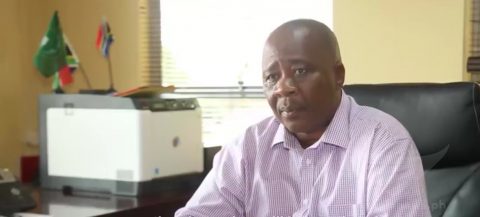 "We think that it will bring a change. That the project will help us by a long way. We are very happy and excited. It's a relief for the local government sector, ourselves and the municipality. We really appreciate the fact that Brother Eduardo identified our town and our municipality, to give this (humanitarian) support. We are really grateful about it," he said.
Ms. Tania Halse, municipal councilor of Mantsopa, was also very thankful for the INC for developing an eco-farm in the area.
"In Ladybrand we have many, many unemployed people and I feel that with our struggling economy, every year food gets more expensive and the cost of living gets more expensive. It is absolutely nice to have people that care for others. That is very fantastic to teach people to plant their own food and to live in their own land. It will definitely uplift our community," she said.
"Brother Eduardo, I just want to say thank you so much. From the municipality and as a councilor of this ward, I just want to thank you from the bottom of my heart for bringing this joy to our community, for bringing unity, and for sharing the love," she added.
Fulfilling God's words to help fellowmen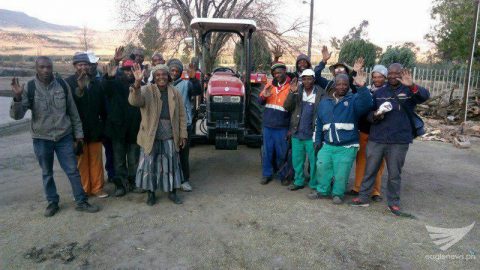 INC minister and General Auditor Glicerio Santos Jr., explains how helping those in need, wherever they may be in the world is one of the main reasons why the Church Of Christ is conducting "Aid to Humanity" projects, as well as establishing eco-farming communities.
This, he said, is also in accordance to God's commandments to help fellowmen, especially those who are less fortunate, which is why the INC Executive Minister is pushing for these projects.
"Ang layunin ng Kapatid na Eduardo Manalo ay kahit bahagya ay makatulong ang Iglesia Ni Cristo para masagip natin ang tao sa masidhing paghihirap. Kaya ngayon lahat ng mga kababayan natin maging ang mga kapatid natin na napakarami na, ay nakinabang na sa ganitong eco-farming ng Iglesia," INC minister Santos said.
(The aim of Brother Eduardo Manalo is for the Church Of Christ to somehow help save people from extreme poverty. Presently, our countrymen and even our brethren who are so many now have benefited from these eco-farming [projects] of the Church.)
"Ang totoo, napakarami ng tao na natulungan ng Iglesia sa buong mundo maging dito sa Africa, na kung saan ay napakarami nating kapatid at kababayan na talagang nangangailangan ng hanap-buhay. At itong eco-farming ng Iglesia Ni Cristo ay papalaki pa ng papalaki. At hindi natin titigilan ito hanggang sa makagagawa tayo ng maraming-marami pang eco-farming at mga hanap-buhay sa buong mundo," he explained.
(In truth, there are so many people all over the world that the Church had helped, including here in Africa where there are so many brethren and their countrymen who truly need a source of livelihood. And this eco-farming of the Church Of Christ is getting bigger and bigger. And we will not stop until we are able to set up more eco-farming projects and help provide jobs for people all over the world.)
"Napakalaki ng puso ng Kapatid na Eduardo Manalo, na itong paghihirap nito ng mundo ay kahit bahagya ay makatulong ang Iglesia, makatulong ang Iglesia Ni Cristo, para mabigyan natin ng hanap-buhay ang mga tao."

(Brother Eduardo Manalo has a really big heart, because he wants the Church — the Church Of Christ — to somehow help alleviate poverty in the world, and help provide decent livelihood to people.)
Giving hope and inspiration
Indeed, the INC's Aid to Humanity projects have already touched and helped many lives.
And in Ladybrand, the South Africans employed in the Church's more than 500 hectares of eco-farm, already feel they can improve their lives and rise out of poverty.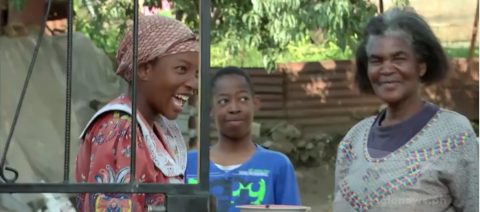 "I would like to thank the Almighty God for the wisdom that He gave to Brother Eduardo Manalo. If it were not for the guidance of the Almighty God, I believe all these things in the farm would have not been present," said a very thankful Limakatso Malia, one of the South Africans working in the INC eco-farm.
Malia believes that the Church Of Christ, under the leadership of the INC Executive Minister, is an instrument of God to help the people in the world. And her prayer is for God to continue to bless Brother Eduardo and the whole Church Of Christ so these good works would continue.
"I ask God to continue to give Brother Eduardo V. Manalo the knowledge that he needs. May he continue doing this wonderful project throughout the entire world, not only here in Ladybrand, not only here in Manyatseng, not only in South Africa, but all over Africa, and all over the world."

(Eagle News Service with contributory reports from Brother Rommel Sanvictores and EBC Eagle News correspondent Hanee Czarina Sanchez in South Africa)