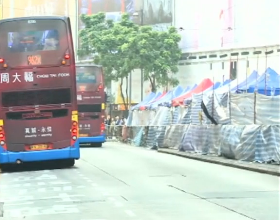 The Hong Kong Police Force has vowed to clear out the last protest camp on Monday morning (December 15)  as scheduled, putting an end to demonstrations that have blocked traffic in the city's streets for 10 weeks.
The clearance of the protest area in the retail hub of Causeway Bay, which is the smallest and the last remaining site occupied by the student-led demonstrators, will start at about 09:30 on Monday, according to Reuters.
It quoted police authorities as saying that barricades near Yee Wo Street, one of the busiest junctions in the area, will be removed for traffic.
Only a few dozen protesters still remain at the Causeway Bay camp in support of the Occupy Central campaign.
Hundreds of police officers will reportedly be deployed for the clearance operation.  They urged demonstrators to pack up their belongings and leave voluntarily to avoid unnecessary confrontations.
In the past week, police have dismantled two other protest sites in Mong Kok and Admiralty, sweeping away shelters and supply stands before swooping on a core group of protesters, who have vowed to maintain their struggle for universal suffrage.
The Occupy Central movement, which saw tens of thousands of demonstrators on the street at its height, has brought parts of the city to a standstill and seriously affected local businesses and peoples' lives, an official said, adding that the lengthy demonstration will only damage Hong Kong's image.
"Your campaign is not only a breach of the law, it has also affected peoples' lives and damaged the global image of Hong Kong. This kind of campaign will not do any good to the democracy and development of a society," said Gary Chan, a member of Hong Kong's Legislative Council. (Reuters)