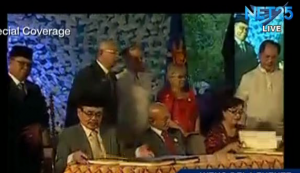 MANILA, Philippines — The members of the Philippine government panel and of the Moro Islamic Liberation Front signed the historic Comprehensive Agreement on the Bangsamoro in Malacanang at around 5:30 p.m.Thursday after delivery of speeches that expressed hope in forging a path towards a lasting and inclusive peace in Mindanao.
The CAB was signed by government peace panel chair Miriam Coronel Ferrer and MILF chief negotiator Mohagher Iqbal.  The signing was witnessed by President Aquino, Malaysian Prime Minister Najib Razak, MILF chief AL Haj Murad, Presidential Adviser on the Peace Process Teresita Deles, and members of both the government and MILF peace panels.
Before the signing of the CAB, various speeches were delivered.
Presidential Adviser on the Peace Process Deles described the signing of the deal as "a new dawn" for peace not only in Mindanao, but also for the whole country and thanked everybody who worked to make this happen.
Next to deliver a speech was MILF chair Al Haj Murad who described the signing of the CAB as the "grandest articulation of our aspiration."  Murad stessed that the peace deal would benefit not only the MILF, but also the Moro National Liberation Front (MNLF) and the whole of Mindanao as well.
He stressed that the MILF's only role in the transition government is basically as a "gatekeeper" who would deliver the keys of governance to who would be duly elected in the elections in Mindanao.
Malaysian Prime Minister Najib Razak who played a major role in the forging of the peace negotiations which his country often hosted described the CAB as a "peace deal decades in the making."
"In signing this agreement, the two sides have looked not to the problems of the past but to the promise of the future," the Prime Minister said.
"After so many years of conflict and so many lives lost, it is a momentous act of courage and it will change the nation's history forever," Razak said in his speech.
President Aquino was last to deliver the speech before the actual signing of the agreement.  He thanked the Malaysian Prime Minister for his country's role in making the peace deal for Mindanao happen.
"Together, we have set an example for the entire world.  This agreement stands as a testament to how far trust and earnestness can move humanity forward," Aquino said in his speech.
"It shows how righteousness, reason and goodwill are the mightiest of instruments in ending conflict," he said.
Aquino also said that he hoped that Congress would set aside personal interests in reviewing the peace deal.
Aquino also expressed hope that the law on the Bangsamoro will be ratified in a plebsicite, and that the Bangsamoro Transition Authority would be in place in 2015 which will then serve as the interim Bangsamoro government until the elections in 2016.
He wished that there would also be "inclusive peace" in Mindanao where the interests of the Bangsamoro population would be represented.
Aquino said he hoped for an "era of peace and equitable progress" in Mindanao. (Eagle News Service)