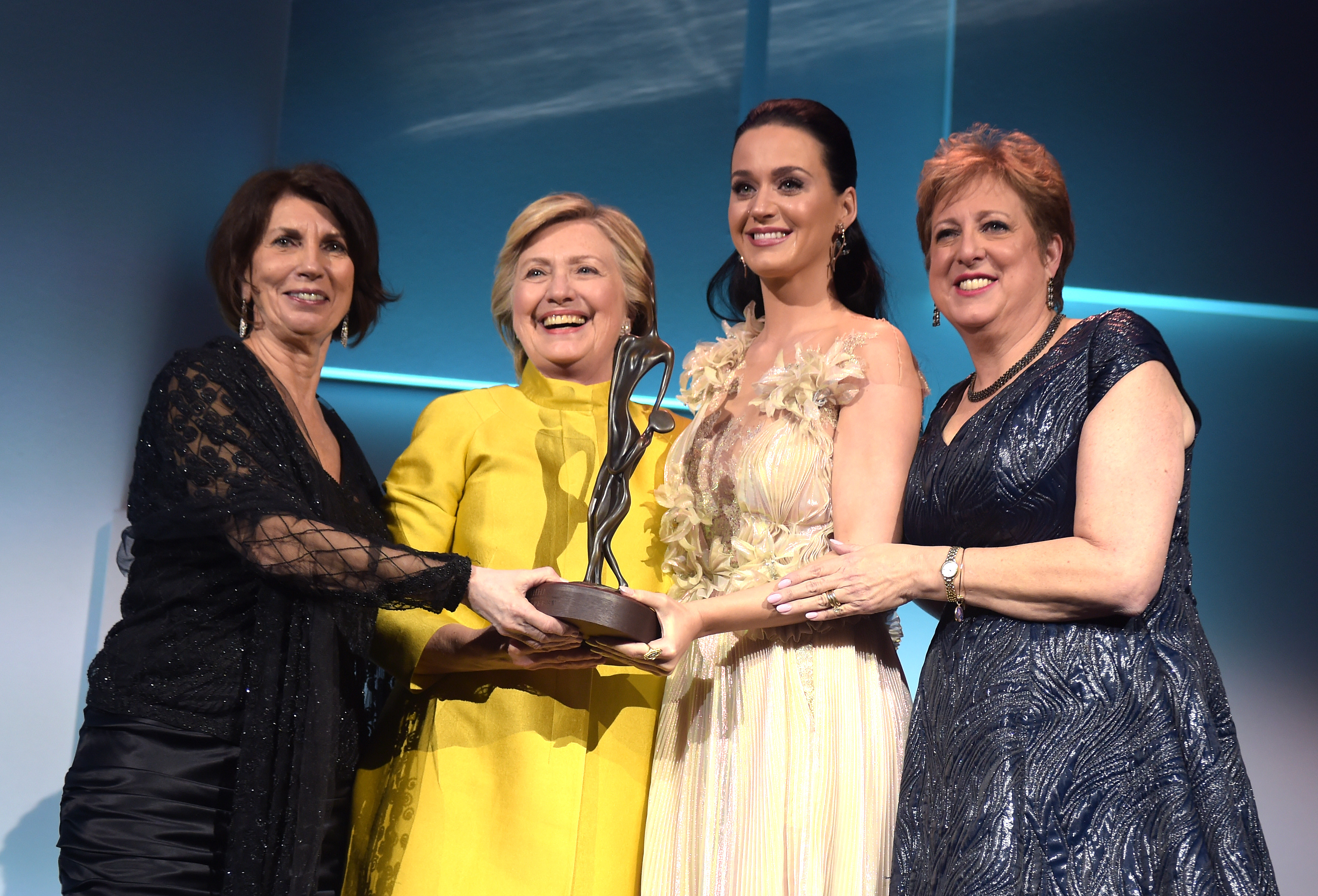 NEW YORK, United States (AFP) — Hillary Clinton surprised a New York gala with an unscheduled appearance to promote UNICEF and honor singer Katy Perry, one of the top celebrity supporters of her ill-fated presidential campaign.
The United Nations Children's Fund presented Perry an award Tuesday night at its Snowflake Ball, a glitzy annual evening to benefit the international organization.
Clinton unexpectedly entered to introduce Perry, taking the stage to the sound of the pop superstar's "Roar," which the former secretary of state featured in campaign advertisements.
Clinton hailed Perry for humanitarian work and, to loud applause, called the singer "someone whose powerful voice and creative lyrics remind us when you get knocked down to get back up."
It was one of the first public appearances by Clinton since she lost the November 8 election to hotel mogul Donald Trump, who pulled off one of the biggest upsets in US political history.
Clinton, long active on child welfare, also appeared after the election in Washington to receive an award from the Children's Defense Fund, the advocacy group with which she has played a role for years.
At the New York gala, Clinton hailed UNICEF for providing food, education and medical care for millions of children over the organization's seven-decade history.
"Every single child deserves the chance to live up to his or her God-given potential," Clinton said, according to a video of the event.
Perry embraced Clinton and spoke in the style of a campaign stump speech, saying that the candidate had given her a new voice beyond music.
"Hillary has lit that voice inside of me and that light will never go out. It will continue to get brighter and brighter and brighter," Perry said.
"Thank you, Hillary. You motivate me and so many millions of people who appreciate you," she said.
The 32-year-old pop singer — the world's most followed person on Twitter — was among a slew of famous musicians to campaign for Clinton along with Jay Z, Beyonce, Bruce Springsteen, Lady Gaga and Jon Bon Jovi.
Trump ultimately won the election with support from white working-class voters in battleground states, even as Clinton triumphed in the popular vote.
© 1994-2016 Agence France-Presse