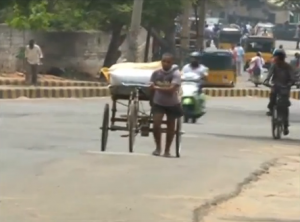 (Eagle News) — A deadly heat wave in India has killed more than 1,400 people as temperatures soar above 47 Celsius (116.6 Fahrenheit),
Reuters said that more than 1,100 died this week.  CNN reported the national death toll at 1,424.  It got so hot that even roads in Delhi had started showing signs of melting.
May and June are India's hottest months, with temperatures regularly pushing above 40 Celsius. But meteorologists say the number of days when temperatures approach 45 Celsius has increased in the past 15 years.
On Wednesday, May 27, the highest maximum temperature recorded was 47 C or 116.6 F, at Daltonganj in eastern state of Jharkhand and Titlagarh in Odisha.
The death toll in the worst affected states of Andhra Pradesh in the southeast and nearby Telangana is more than double the toll from a shorter hot spell there last year, officials said, with most of the victims either elderly or laborers suffering sunstroke or dehydration.
"The heat wave is still continuing in the state of Andhra Pradesh. The maximum today also in many places were recorded at 46 to 47 degree (Celsius) and the death toll reached 1020, 1020 have died all over the state. This is the cumulative figure. Since the beginning of heat wave from 18 (May) onwards, this many people have died due to sun stroke or heat waves," Special Commissioner for Disaster Management, Tulsi Rani, said on Wednesday (May 27).
The toll in Andhra Pradesh alone is 852, according to Reuters.  But CNN said that the death toll in Andhra Predesh had reached at least 1,020.
Authorities have cancelled doctors' leave and advised people not to go outside in the middle of the day to avoid the worst of the heat, but for many Indians staying indoors is not an option.
The weather conditions have also resulted in frequent power cuts.
Some patients complained that authorities were not doing enough to restore electricity.
"There is no electricity since 10.00 a.m. (0430 GMT) and there is no help from the side of the management or anyone else. Two patients are sharing one bed and nobody is bothered," said an unidentified person at a hospital in east Godavari.
The heat wave entered its sixth day in parts of the south. That's double the time they generally last, according to Y.K. Reddy, a government meteorologist in Hyderabad in one of the worst affected regions.
Blamed on dry continental air blowing in from Iran and Afghanistan, the heat wave is forecast to subside later this week before monsoon rains bring relief to parched areas of the east and south. (with a report from Reuters and CNN)