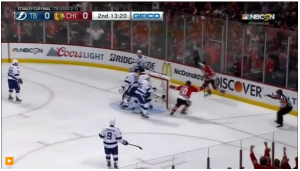 (Reuters)Chicago netminder Corey Crawford stole the spotlight as the Blackhawks beat the Tampa Bay Lightning 2-1 to square the Stanley Cup Final at two games each on Wednesday (June 10).
Crawford was strong early and even stronger in the game's closing minutes, stopping Steven Stamkos on two point-blank shots to preserve the victory.
Chicago were outshot 25-19 in the game.
Brandon Saad got the winner for Chicago at 6:22 of the third period, after earlier goals by Chicago's Jonathan Toews and Tampa Bay's Alex Killorn.
It is only the third time in Stanley Cup history that the first four games of the series have been decided by only one goal.
Tampa Bay's goaltender Ben Bishop who left Game Two with an injury and was visibly affected in Game Three, was replaced with 20-year-old rookie Andrei Vasilevskiy for Wednesday's game.
The series now shifts back to Tampa Bay for Game Five on Saturday.