Mercedes driver Lewis Hamilton has won his third consecutive Formula One race, taking the checkered flag at the Chinese Grand Prix. His team-mate, Nico Rosberg came in second.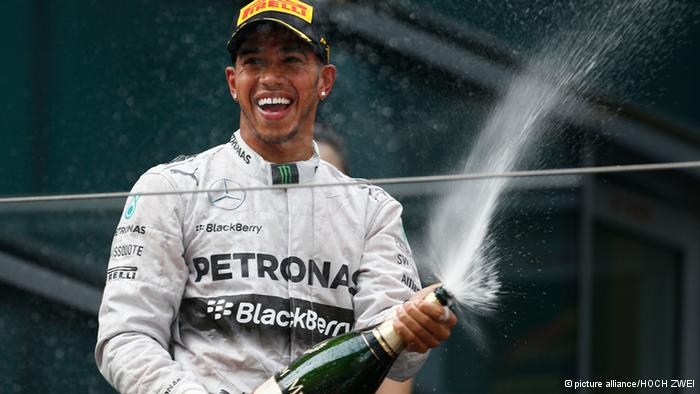 The British former drivers' champion led the race at the Shanghai circuit from start to finish on Sunday, having secured the pole position and pulling away from the pack before the first curve.
Rosberg's second place finish allowed the German Mercedes driver to retain first place in the drivers' standings. However, with the victory, Hamilton narrowed the gap to just four points.
Last year's winner in Shanghai, Ferrari driver Fernando Alonso, came in third, followed by Red Bull driver Daniel Ricciardo. His German team-mate, four-time defending divers' champion Sebastian Vettel, crossed the finish line in fifth place.
For Hamilton it was a third consecutive Formula One win, following his victories in Malaysia andBahrain. It was also the third-consecutive one-two finish for the Mercedes team.
Praise for the car
"I can't believe how amazing the car is. I was able to look after the tires and then I was racing myself," Hamilton said while standing on the podium following the race.
"I'm really happy Nico's up here with us. It's great points for the team," he added, referring to the constructors' standings, in which Mercedes enjoy a 97-point lead over their closest rivals, Red Bull – Renault.
Rosberg, who started from fourth in the grid, got off to a poor start, dropping back to seventh place, before working his way back up through the field.
Team-orders controversy
A significant talking point after the race, though, was an incident in which Vettel initially ignored an order from his Red Bull team to allow his team-mate Ricciardo to overtake him.
After receiving the order over the radio, the German driver replied "tough luck."
However, Ricciardo did pass him two laps later and after the race, Vettel insisted that he had not ignored his team's orders.
"At that stage Daniel was on a different strategy so, yeah, I moved over. I could see more and more towards the end of the race that I just didn't have the pace… In the end there was no point in holding him back," he said.
pfd/jm (AP, Reuters)
DW.DE
http://www.dw.de/mercedes-driver-lewis-hamilton-wins-chinese-grand-prix/a-17579754