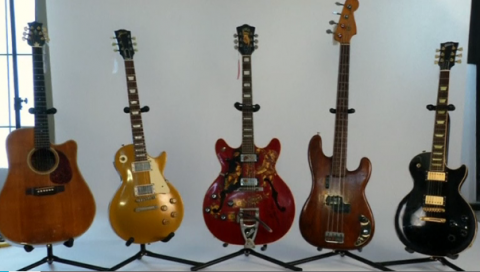 NEW YORK, United States (Reuters) — Guitars used by Jimi Hendrix, Paul McCartney, Bruce Springsteen and other celebrated musicians will soon hit the auction block in New York City.
Guernsey's auction house will hold its Music Legends' Guitar auction on December 2 where more than 120 guitars and other instruments will be sold.
Included in the sale is a red, sticker-covered Guild guitar that was used by Jimi Hendrix in 1968.
"A pretty colorful guitar," said Guernsey's President Arlan Ettinger. Ettinger said Hendrix played the guitar inside a Miami hotel.
"In 1968 when a festival in Miami that he was appearing at got rained out, he and other musicians and as many fans could pack into the neighboring hotel jammed into there for what amounted to a jam session and this is the guitar he played."
Also on the auction block is an acoustic guitar that belonged to Jerry Garcia and a 1953 "Goldtop" Gibson Les Paul used by Paul McCartney as recently as 2012 according to Ettinger.
Bruce Springsteen's bass guitar will go for sale, as well as the black Gibson Les Paul Madonna used on tours including her 2001 'Drowned World Tour' and her 2008 'Sticky & Sweet' tour.
"It is a beautiful, beautiful guitar that was chosen by Madonna to be the instrument that she was going to come out and show the world that she could play the guitar and it became part of her performance," said Ettinger.
The celebrity auction comes on the heels of Guernsey's sale of Jerry Garcia's "Wolf" guitar which sold for $1.9 million (USD) in May.
In addition to musical instruments and rare memorabilia, master tape recordings of James Brown and Elvis Presley will also be included in the sale.
Guernsey's Music Legend's Guitar auction is scheduled for December 2 at Bohemian Hall in New York City.