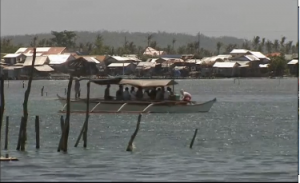 (Reuters) — As residents in the Philippine town of Guiuan, which faces the Pacific Ocean in the Eastern Samar Province, prepare for the French President's visit, they are hopeful it will highlight the impact of extreme weather upon local communities.
Francois Hollande, who is in the Philippines for a two-day state visit, will be heading to the coastal community in Guiuan to meet villagers and renew his call to action on climate change.
The massive Typhoon Haiyan destroyed nearly everything in its path on November 8, 2013, with seven-metre high storm surges killing more than 6,000 people and left over 1,000 more missing.
Scars of the aftermath are still evident in the town of Guiuan, a coastal community which is frequented by typhoons and where Haiyan's 275 kph winds first made landfall.
Rebuilding of the damaged schools, houses and infrastructures were still underway over a year after the tyhpoon struck which destroyed nearly eighty percent of the town. The local government has prioritized the building of safer and more resilient structures.
Permanent resettlement to land considered "safe" by the local government was offered to hundreds of people living in the coastal communities as the shoreline has been considered a danger zone by the local government, but most of the villagers refused to leave.
Fisherman Alejandro Ugatia, who has been living in the coastal communities for the last 40 years explained why.
"We get our livelihood from the sea, so what will happen to us if they take us away? We will lose our livelihood," he said.
Non-government institutions like the International Labour Organisation (ILO) has partnered with the local governments in Eastern Samar and Leyte Provinces to assist people who lost their livelihoods by providing alternate sources of income, skills development and cash for work programmes.
However, based on a 2014 government data, only about 14 percent of 1.5 million families in thecentral Philippines displaced by the typhoon had received aid for rebuild their livelihood. The government estimates it would need 170 billion pesos ($3.8 billion) to rebuild all Haiyan-affected communities.
Adelz Mias-Cea, the regional coordinator of the United Nations Human Settlements programme(UN Habitat) who has been assisting the rehabilitation efforts of the local government, said Holland will see first hand how local communities are affected and bring their story to global discussions.
"This visit by French President Hollande is a good opportunity for him to see and to reach out, and then voice out in global discussions and be able to tell what is happening in towns like Guiuan, to small municipalities who are facing extreme weather events, extreme weather changes that we are now feeling," she said.
Hollande's visit is intended to build momentum and spur countries to strike a binding agreement to curb carbon emissions at the climate conference France will host this December.
One resident living in temporary shelters sponsored by a non-government organisation supported Hollande aim.
"I think he is right in making his point, like asking those big countries to cut back on greenhouse gases, so that smaller and less developed countries like the Philippines will not be affected," saidRosemarie Dela Cruz.
The Philippines is visited by an average of 20 typhoons annually, but recent years have seen stronger storms forming and hitting areas not frequently affected by the severe weather conditions.
It is identified as the third most vulnerable country to climate change and extreme weather events in the World Risk Report 2012, issued by the United Nations University Institute of Environment and Human Security.