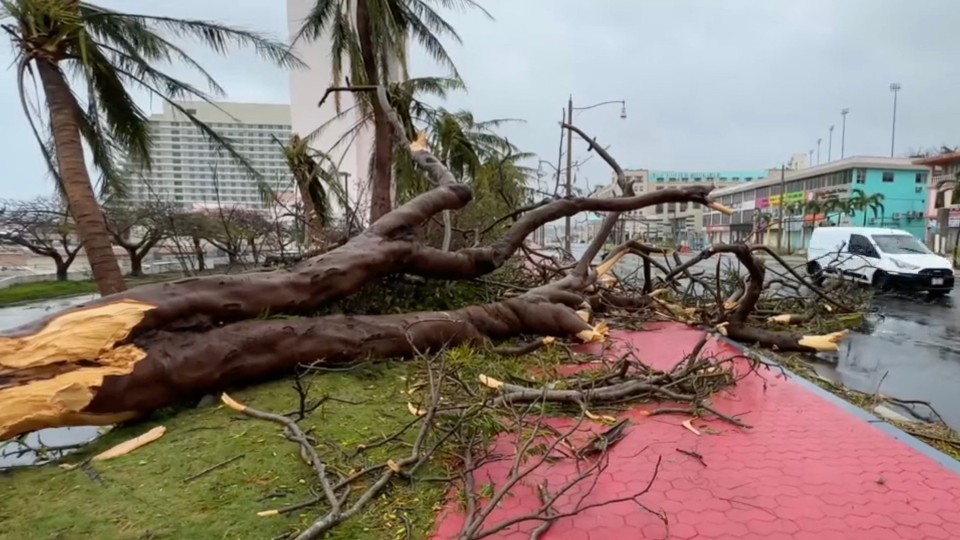 LOS ANGELES, United States (AFP) — Typhoon Mawar was moving away from Guam on Thursday, prompting the governor of the US territory to declare the island had "weathered the storm."
Forecasters said the typhoon had blasted Guam with winds of 140 miles per hour (225 kilometers per hour) on Wednesday when the eye of the storm passed just north of the island.
Mawar was now heading towards the Philippines and Taiwan, packing stronger winds of 150 mph, the US National Weather Service said.
"We now continue to focus our efforts on repairing infrastructure and restoring services to residents," Governor Lou Leon Guerrero said in an Instagram post.
"I want to thank you all for taking all the safety precautions issued and have once again weathered the storm."
Residents on the island of 170,000 people said on Thursday evening that conditions were improving.
"Winds are finally dying down. Lots of debris in my yard," Beckie Merrill, a 46-year-old middle school teacher, told AFP from a southern area of the island.
Tens of thousands of homes were without power Thursday, the Guam Power Authority (GPA) said, but noted that a total blackout had been avoided.
"We recognize that the widespread power outages make post-typhoon recovery difficult. Your GPA engineers and line crews began assessing damages and making repairs to critical infrastructure at first light today," it said in a Facebook post on Thursday.
A full damage assessment had yet to be completed.
Images on social media showed the impact of winds that had uprooted trees, swept away vehicles and dislodged roofs, throwing debris everywhere.
"As sunlight is starting to peek, we are waking up to a rather disturbing scene out there across Guam," a NWS forecaster said Thursday morning.
"We are looking out our door and what used to be a jungle looks like toothpicks. It looks like a scene from the movie 'Twister,' with trees just thrashed apart."
Ocean conditions are still treacherous, even for large vessels, the agency said.
– Heading West –
The NWS said Mawar was about 135 miles west-northwest of Guam as of 1:46 pm local time (0346 GMT) and it was expected to maintain its intensity for the next two days.
Forecasting models suggest it was heading towards Taiwan or the Philippines, it said.
In Washington, the White House said President Joe Biden had been briefed on the situation.
"The White House is in close contact with the government of Guam and has offered as much support as needed," a spokeswoman said.
About 21,700 US military personnel and their families are based on Guam, which routinely hosts nuclear attack submarines and long-range bombers.
The territory is also home to key electronic listening posts, and the US bases have some of the Pacific region's most significant ammunition and fuel storage facilities.
Lieutenant Commander Katie Koenig, spokesperson for Joint Region Marianas, said military aircraft and ships departed before the destructive winds began or were sheltered in hangars, "except for one vessel which remains in port due to an inoperable engine."
Koenig added that all military and civilian personnel were instructed to take shelter.
"Our service members throughout the Marianas routinely exercise natural disaster response and are  ready and postured to respond… once the 'all clear' order is given," she said.