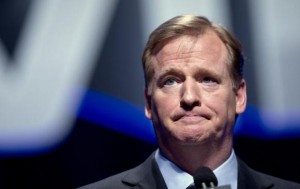 (Reuters) – National Football League commissioner Roger Goodell said he was waiting for all the facts to emerge before deciding whether to punish Indianapolis Colts owner Jim Irsay for his recent arrest on suspicion of intoxicated driving.
Goodell said Irsay took an important step by entering a health-car facility to seek help, but said the team owner remains subject to possible NFL punishment.
"We obviously will want to understand the facts before we take any steps as it relates to any potential discipline," Goodell told reporters on Monday at the NFL owners meeting in Orlando, Florida.
"Obviously, any policies or any laws that are broken, whether you're commissioner or owner or player or coach, those are subject to discipline."
Police in the Indianapolis suburb of Carmel stopped  on March 16 after he was spotted driving slowly, coming to a stop in the roadway and failing to use a turn signal.
Irsay, 54, failed several roadside field sobriety tests before he was arrested, according to authorities. Police also say they found multiple prescription drugs in his vehicle.
In other business, Goodell said health and safety initiatives enacted by the rules committee were having a positive effect.
Goodell said the Competition Committee reported to the owners that fines for hits on defenseless receivers dropped 37.5 percent to 25 in 2013 compared to 40 in 2012.
The committee also found concussion rates for wide receivers and defensive backs decreased last year and ACL injuries for wide receivers and tight ends had not increased, a worry expressed by some players fearing that knee injuries could increase when players were punished for head-to-head contact.
Goodell also discussed the Miami Dolphins locker room investigation, saying there would be no discipline until the three players implicated for causing mental distress to offensive lineman Jonathan Martin and others – Richie Incognito, John Jerry and Mike Pouncey – received a medical evaluation.
"The first phase for us is to get the evaluations and determine what the treatment is," Goodell said. "Depending on what the doctors prescribe, it could prevent them from being a part of football for some period of time."
Goodell also said league officials will meet with representatives of the NFL Players Association on April 8 to discuss ways to make locker rooms a safer workplace.