By Herbert Lash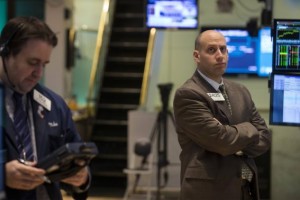 NEW YORK Wed Apr 9, 2014 4:55pm EDT
(Reuters) – Global equity markets advanced and the dollar retreated on Wednesday after minutes from the Federal Reserve's latest policy meeting suggested the U.S. central bank may not raise interest rates anytime soon.
Stocks on Wall Street jumped more than 1 percent and prices of U.S. government debt fell following release of the minutes from the Fed's March 18-19 meeting.
Fed policymakers were unanimous in wanting to ditch the thresholds they had been using to telegraph a policy tightening, according to the minutes, which shed little new light on what might prompt a rise in interest rates.
They fretted that investors would overreact to published forecasts that suggested a more aggressive cycle of interest rate increases was coming than they planned.
"People are taking solace in the idea that the Fed may be more accommodative than previously thought, for longer than previously thought," said Steve Sosnick, equity-risk manager at Timber Hill/Interactive Brokers Group in Greenwich, Connecticut. "That's giving the lift to stocks and explains why the dollar fell against the euro."
The Dow Jones industrial average .DJI closed up 181.04 points, or 1.11 percent, at 16,437.18. The S&P 500 .SPX gained 20.22 points, or 1.09 percent, to 1,872.18 and the Nasdaq Composite .IXIC added 70.914 points, or 1.72 percent, to 4,183.9.
The euro rose as high as $1.3862, its strongest level since March 19, and was last at $1.3854, up 0.43 percent.
Against the Swiss franc, the dollar fell to 0.8789 franc, its lowest level in more than two weeks.
The dollar traded higher against the yen, having fallen following the Fed minutes after trading higher for most of the session. It last traded up 0.18 percent at 101.97 yen.
U.S. stocks rose early in the session after aluminum producer Alcoa late Tuesday reported quarterly results that topped analysts' expectations, even though the company's adjusted profit fell due to declining aluminum prices.
Shares of Alcoa gained 3.8 percent to $13.00 and at one point were the best performer among components of the benchmark S&P 500 index.
Alcoa had long been the first company in the Dow Industrials to report results each quarter. Since aluminum is used in key industries, including the automotive, aerospace and construction sectors, some see it as a bellwether for the earnings season.
The company is no longer a Dow component.
Earnings for companies in the S&P 500 are projected to have increased just 1 percent from last year's first quarter, Thomson Reuters data showed. The forecast is down sharply from the start of the year, when profit growth was estimated at 6.5 percent.
"Earnings will really help give this market some forward direction, but they are in front of us and haven't really hit yet," said Rick Meckler, president of hedge fund LibertyView Capital Management in Jersey City, New Jersey.
The Nasdaq biotechnology index .NBI was up 4.1 percent and the Global X social media index was up 3.3 percent.
The pan-European FTSEurofirst 300 index .FTEU3 of leading regional shares closed up 0.36 percent at 1,338.12, while MSCI's all-country equity index .MIWD00000PUS rose 0.66 percent.
Gains in Europe were led by automakers, although some traders said caution ahead of the European earnings season could curb near-term progress.
U.S. Treasuries prices fell as traders trimmed their bond holdings in advance of a $21 billion auction of 10-year notes.
The benchmark 10-year Treasury note was down 5/32 in price to yield 2.6989 percent.
Brent crude rose toward $108 a barrel as rising tension between Russia and Ukraine overshadowed the bearish impact of a substantial rise in crude oil stockpiles in the United States.
While the Ukraine crisis may not directly impact global oil supplies and trade, the risk premium on oil is rising as investors worry the Kremlin's stand-off with the West could quickly take a turn for the worse.
Brent crude rose 31 cents to settle at $107.98 a barrel. U.S. oil settled up $1.04 to $103.60.
(Reporting by Herbert Lash; Additional reporting by Marc Jones in London; Editing by Dan Grebler and Leslie Adler)