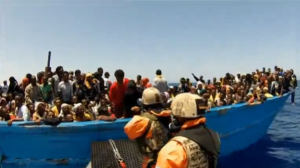 (Reuters) — The German navy on Tuesday (June 23) rescued 627 migrants whose wooden boat ran into difficulty in the Mediterranean Sea.
The German ship, Tender Werra, was informed by the Maritime Rescue Coordination Center (MRCC) in Rome of a maritime emergency some 55 kilometers north-west of the Libyan capital Tripoli and was asked to bring the people to safety.
Footage supplied by the Bundeswehr, or German military, shows navy officials pulling people from a packed wooden boat onto their inflatable speedboats before bringing them back to the ship.
Those on board included 115 women and 41 children.
The migrants were taken to the Italian harbour of Reggio Calabria where they were handed over to the local authorities.
As part of the ongoing rescue missions in the Mediterranean, the German navy says it has rescued 5,673 people in the Mediterranean so far: 4,254 men, 1,010 women and 409 children.
The migrant crisis in the Mediterranean have been part of the talks of various European leaders, as they tried to  agree on a plan to share out the care of desperate people fleeing war and poverty in North Africa and the Middle East.
There are currently 40,000 Syrian and Eritrean asylum seekers now in Italy and Greece and another 20,000 people currently outside the European Union.