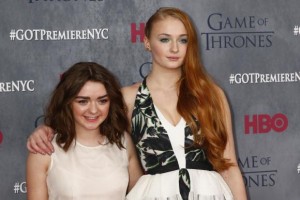 (Reuters) – The season four premiere of fantasy epic "Game of Thrones" drew an average of 6.6 million viewers, making it the largest audience for HBO since the 2007 finale of mafia drama "The Sopranos," the premium cable network said on Monday.
The highly anticipated premiere on Sunday of "Game of Thrones" beat out its season three premiere of 4.4 million viewers and topped its all-time-high audience of 5.5 million.
The series of civil war, extreme weather and mythical creatures is shaping up to be the Time Warner Inc-owned network's biggest show since "The Sopranos," which drew 11.9 million viewers for its 2007 finale.
After the slaughter of the main members of the Stark family in the "Red Wedding" episode last season, the season four premiere saw the remaining Starks coming to terms with the deaths.
Audiences saw Arya Stark, played by 16-year-old Maisie Williams, take a dark, cruel turn as she is exacts revenge for her family. The series is adapted from author George R.R. Martin's "A Song of Ice and Fire" novels.
HBO said a total of 8.2 million people watched the episode, which included two replays later on Sunday. "Game of Thrones" averages a gross audience of 14.4 million per episode. That figure includes viewers who record the show and watch it later in the week, which is popular among the network's viewers.
The network also said its online viewing app, HBO Go, experienced technical difficulties under heavy demand for "Game of Thrones," which made it difficult for some users to access the show.
The debut of eccentric tech comedy "Silicon Valley" averaged 2 million viewers following "Game of Thrones," while the season three premiere of political satire "Veep" averaged 955,000.
In its second season, "Veep" averaged 3.9 million viewers, including live and recorded viewings.
HBO's Sunday night lineup of the three series has been lauded by critics as some of U.S. television's strongest programming blocks.