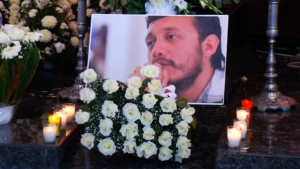 (Reuters) — Slain Mexican news photographer, Ruben Espinosa, was laid to rest in Mexico City on Monday (August 03) days after he was shot dead in his apartment, the latest in a string of murders that has prompted protests from fellow journalists.
Espinosa, who a month ago claimed in interviews that he felt threatened by the governor of eastern Veracruz state, was the lone male among five victims that police discovered bound, beaten and shot in the head in the capital's Narvarte neighbourhood.
Family, friends and colleagues turned out to bid the photojournalist farewell.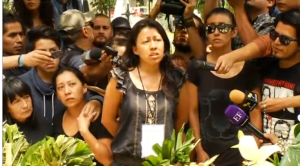 "Our family is proud of him. He will always live in us and hopefully in all of you who are journalists, photographers who work for the media, learn from his courage," said Espinosa's sister, Patricia.
Mexico City prosecutor Rodolfo Rios has told media his office was working together with the division of the federal attorney general's office dedicated to crimes against freedom of expression to bring the perpetrators of this crime to justice.
The capital's prosecutor also said robbery and the deliberate targeting of the women were possible motives for the murders, disappointing many of Espinosa's colleagues.
Espinosa, who was 31 years old, had specialised in documenting local social movements in Veracruz, many of which are critical of the PRI and Veracruz governor Javier Duarte in particular.
Veracruz Corespondent for current affairs magazine Proceso, Noe Zavaleta, told Reuters the search for justice in Mexico was elusive.
"We're feeling a lot of helplessness, anger, courage. We're pissed off, we're scared. With this I don't know if it is worth proceeding with justice or not, it will not bring back our friend. At the end of the day looking for justice in Mexico City or Veracruz is the same. The rule is it doesn't matter," he said.
Veracruz is one of Mexico's most dangerous states for journalists, with 17 killed since 2000 according to journalism advocacy group Article 19. According to the Committee to Protect Journalists, 11 have been murdered since 2010 during Duarte's term as governor.