By Kathy Finn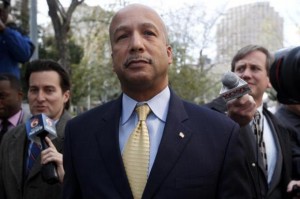 NEW ORLEANS Wed Feb 12, 2014 7:03pm EST
(Reuters) – Former New Orleans Mayor C. Ray Nagin was found guilty by a federal jury on Wednesday of accepting bribes and trading on the public trust during the critical years of rebuilding after Hurricane Katrina devastated the city in 2005.
A jury of six men and six women convicted Nagin on 20 of 21 counts, including bribery, wire fraud, conspiracy, money laundering and tax evasion. It acquitted him on one bribery count.
A sentencing hearing has been set for June 11. Nagin, 57, faces at least 20 years in jail, according to legal experts.
Prosecutors said the combined value of the bribes, which included lavish personal parties, private jet rides and first-class airfare for a Nagin family shopping trip to New York, totaled more than $500,000.
U.S. District Judge Helen Berrigan told Nagin, after reading the verdict in court, that she is modifying the terms of his bond to require that he submit to "location monitoring" and be subject to home detention until his sentencing.
During the 10-day trial, the jury heard from some 30 prosecution witnesses, including a City Hall insider and contractors who earlier pleaded guilty to bribing public officials and are awaiting sentencing.
Prosecutors described Nagin as a mayor on the take, granting favors for bribes that included tons of free granite delivered to a kitchen countertop company he ran with his sons.
"Our public servants pledge to provide honest services to the people of Southeast Louisiana. We are committed to bringing any politician who violates that obligation to justice," U.S. Attorney Kenneth Allen Polite Jr., said in a statement.
Nagin showed no obvious initial reaction as the verdict was read. Seated behind him, his wife Seletha sobbed quietly. As he and his lawyer left the courtroom, a then nearly tearful Nagin paused briefly to clutch her hand.
Nagin had spent several hours on the witness stand during which he flatly denied taking bribes and insisted any money he put into his sons' business was an investment.
"Like any father, I wanted to help my sons," he told jurors.
Nagin's defense questioned the credibility of those who testified against the former mayor in exchange for what might be lighter prison sentences.
Asked by a reporter if Nagin is likely to appeal the verdict, his lawyer Robert Jenkins said: "Of course."
'NAUSEATING' GRAFT
A former cable TV executive who rode a wave of support into office in 2002 on promises to run an ethical government, Nagin won re-election four years later. According to prosecutors, he immediately began conspiring to extract money from contractors to fund the floundering business run by his sons Jeremy and Jarin Nagin.
A grand jury indictment returned in January 2013 said the former mayor accepted gifts that included some $200,000 in cash and wire transfers, free vacations for him and his family to Hawaii and Jamaica and the truckloads of granite.
Commenting after the verdict, the head of a local watchdog agency said justice had been served.
"What we just saw displayed to the public was a nauseating case of abuse of public power for personal enrichment," said Rafael Goyeneche, president of the New Orleans Metropolitan Crime Commission.
Nagin, who now lives in Frisco, Texas, stirred national controversy with his erratic behavior after Katrina broke floodwalls and inundated New Orleans, killing 1,500 people and leaving tens of thousands of people homeless.
Days after the storm, an angry Nagin chided federal officials to "get off your asses" and send help to the city.
Later, as he sought re-election in 2006, Nagin, an African-American who previously enjoyed strong support from both black and white voters, seemed to take a racially divisive approach to his campaign.
He was criticized for racial divisiveness after he urged residents to rebuild a "chocolate New Orleans," referring to its majority African-American population.
(Reporting by Kathy Finn; Writing by Jon Herskovitz; Editing by Jonathan Oatis, Bernard Orr)